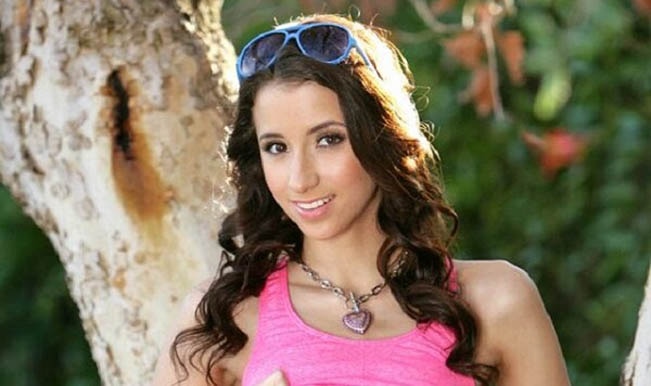 Belle Knox or Lauren is a half-Canadian and half Indian girl who studies in Dukes University. She faced a tough situation with her steep education bills after her parents couldn't afford to pay for them. So she joined the adult movie industry and started featuring in porn films to support her education.
Her father was unpleasantly surprised one evening when he got home to find that his daughter had become famous for all the wrong reasons after several news channels started broadcasting her story without leaving any details hidden from names to addresses and even showing photographs of the family members. Belle Knox's father is a doctor in the army who has served in Afghanistan who found out about her daughter's method of funding her education on the news.
In her defense, Lauren or Belle Know claims that she makes over USD 1000 in two hours while starring in a porn film as compared to her fellow students who work overtime working jobs and can barely make any money.
Her story has been plastered on the internet and many have come to her aid while others have criticized her. Here are some of the tweets.
I am to the media and to society is a whore, an untouchable.

— Belle Knox (@belle_knox) March 12, 2014
If I were any "conventional" profession, my name would not be maligned and my family would not be getting harassed by media. No, all

— Belle Knox (@belle_knox) March 12, 2014
Just because im a sexworker doesn't mean I don't have a right to privacy and personal safety.

— Belle Knox (@belle_knox) March 12, 2014
Sex worker rights are #humanrights

— Belle Knox (@belle_knox) March 11, 2014
Shout out and mad respect to the well-spoken and SMOKIN' @Belle_Knox. Haters gonna hate!

— Brazzers (@Brazzers) February 26, 2014
I appreciate people coming to my defense, but please do not harass the guy who outed me.

— Belle Knox (@belle_knox) March 9, 2014
@belle_knox is one of the hottest porn stars i've seen in a while,. So innocent yet so sexy and naughty

— That Girl (@relatabletoyou2) March 9, 2014
@simonebienne How dare you tell me tell me how I should feel about my experiences. And playboy tv has hardcore porn, fyi Also, how much

— Belle Knox (@belle_knox) March 8, 2014
@simonebienne you host for Playboy radio and you're criticizing the porn industry and the people in it? #Hypocritical #umwhat

— Belle Knox (@belle_knox) March 8, 2014