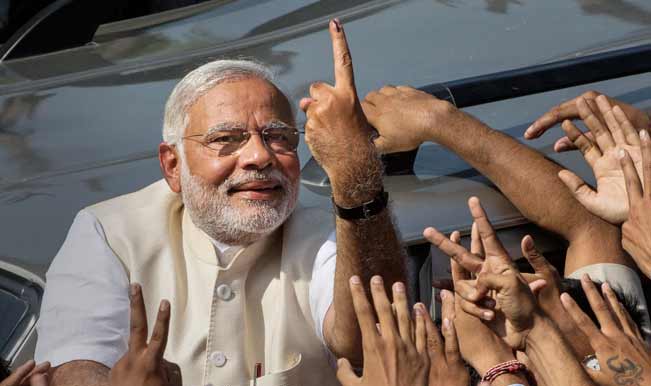 Congress has been in for a rude shock owing to their ignorance and denial of the Modi wave that they refused to believe has been sweeping the nation way back from September 2013 when Narendra Modi was declared as the Prime Ministerial candidate by the Bharatiya Janta Party. Congress may be leading from their traditional seats like Rae Bareli and Amethi but they are losing massive numbers in most parts of the country.
Narendra Modi and the BJP camp is short of jumping with joy, metaphorically of course, with the huge win that they are so close to and it is only a matter of time before the results are made official.
Here are some of the best tweets that people are sending out to mock the laughing stock that Congress led UPA has become
It's a total rout for the Congress. It seems to be dropping two seats for every one that it is retaining. #IndiaDecides2014

— Vikram Chandra (@vikramchandra) May 16, 2014
'Please God, make Rahul PM', pray Congress workers http://t.co/A01Gjqfq9p

— Firstpost (@firstpostin) May 16, 2014
#Elections2014 …Both BJP and Congress are leading. BJP leading towards Delhi, and Congress towards Italy!

— GoAnand (@anandsharmav) May 16, 2014
BJP+- 276 Cong+- 73 Now Modi mulling over making Congress to Follow-On.

— TazaRujhanokeMutabik (@GabbbarSingh) May 16, 2014
Congress has come down to 72 may reach 50 at the end of the day #Results2014

— QueenBee ♕ (@vaidehisachin) May 16, 2014
BJP : 292 Congress : 76 Congress needs 17 seats to avoid follow on. #ElectionResults #Elections2014 #Verdict2014 #PMNaMo #Results2014

— Sir Ravindra Jadeja (@SirJadeja) May 16, 2014
Just imagining everyone at Congress headquarters looking at a TV making the same face I do during all Hillary Swank movies.

— Vir Das (@thevirdas) May 16, 2014
Woken up to Arnab yelling at me declaring a wipeout for Congress and calling the election for the NDA – I want what he had for breakfast

— soha ali khan (@sakpataudi) May 16, 2014

Get Live Updates of Lok Sabha Election Results 2014 here.
Lok Sabha Election Results 2014 Live Analysis