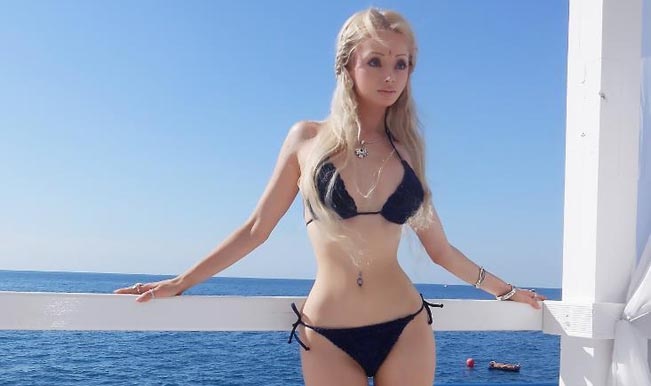 A lady seems to have taken the lyrics of Aqua song "I'm a Barbie girl, in the Barbie world. Life in plastic, it's fantastic", a bit too seriously. More and more girls are trying to look like the plastic doll. A 38-year-old woman from California is so obsessed with the doll. She has become so desperate to transform herself into Barbie. She has regular spray tans, Botox, lip fillers, and has even had five breast enlargement procedures done. The lady has legally changed her name to Blondie Bennett. The plastic transformation was alright till an extent but it gets worse. She also gets hypnotherapy sessions once a week because she wants to be "brainless" just like her idol. Who would dare to do that?
Blondie has spent around $41,645 just on boob jobs, bringing her to a size 32JJ. She's completely obsessed with maintaining a Barbie appearance.  Although Blondie is currently unemployed she manages to makes her living by taking money from men who pay her in exchange for skimpy pictures of her dressed up as Barbie. And now she's using that money for her hypnotherapy sessions so she can become more "stupid."How can someone so witless need to go under such a procedure? As for the hypnotherapy sessions, she's convinced they're working. She confirms that she has had 20 sessions resulting in consequences of feeling dizzy and confused all the time.
And her Barbie obsession didn't develop overnight either. It all started in her teens, when she would bleach her hair blonde and even attempt to dress like the doll. At 18 she was even taking on promotional gigs at toy stores where she was required to pretend to be Barbie. The pursuit of looking pretty all the time and doing nothing but shopping and making oneself look more pretty encouraged Blondie to become more like Barbie. Last August, Blondie had her H cup implants increased to a JJ with 1700cc saline implants. And in December she had chin liposuction to contour her face so she looked more like Barbie.
She says 'Some other women pretend they are human Barbie dolls but I take it to the next level.
'I want people to see me as a plastic sex doll and being brainless is a big part of that.
'People can criticize me but this is who I am: I want my transformation to be head to toe, inside and out.'
Natural is boring to her and she is convinced that the hypnotherapy will make her more doll like.
It's not like Blondie is the first woman to try to be just like Barbie, well she went overboard with wanting to be brainless. Blondie's main competition is 23-year-old Valeria Lukyanova of Russia, who bills herself as the Living Barbie.
So who wants to now argue that playing with unrealistically-proportioned Barbies doesn't affect young girls?
By Priya Prakshan