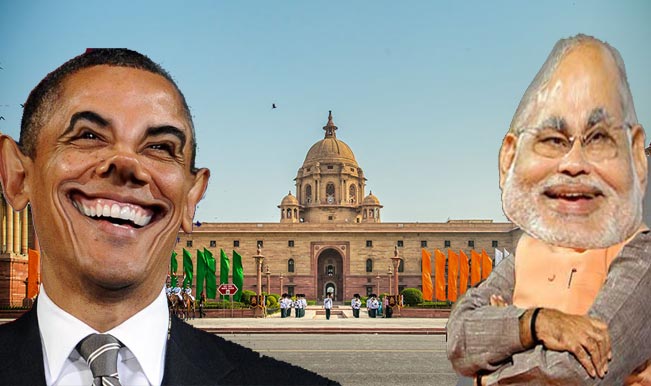 Yes President Barack Obama is also part of the grand Narendra Modi swearing-in ceremony. He is attending the oath taking ceremony at Rashtrapati Bhavan today. He had earlier secretly slipped into neighbouring Afghanistan with the media traveling with him for the 13 hour flight was kept under wraps. This trip was an indebted action to be right next to the our BJP leader's grand oath taking ceremony today!
US President Barack Obama is working closely with India's administration. This is not in regards with the comprehensive business partnership but rather as more direct and closer helping hand to the 15th Prime minister of India. This also puts to rest any speculation about US not giving Modi a visa to visit White House. Obama was the first head of the state to invite Modi after he won the Lok Sabha election with a thumping majority.
Narendra Modi's presence on the social media is inevitably the best planned social presence ever which was run with inputs from the US president. He has used this millennial to connect well with the youth. Via social networking media Modi along with his team has stepped out of the crowd and is bracketed in the most popular and different from the rest of the section. His strategically chalked out plan to reach out to the Indian voters via social networking platform has worked well for him.
But don't you see any similarity between the perfect strategy of NaMo and the Obama's campaign in regards to the usage of social media? It is because Barack Obama is the mastermind behind the current campaign that helped Modi triumph as the 15th Prime Minister of India. President Obama not only sees India as a key player in the U.S. strategy of re-balancing its diplomatic and military resources but is also helping the world's most dynamic economic region by being part of the NaMo bandwagon.
Watch the live streaming of the Narendra Modi swearing-in ceremony here
Narendra Modi swearing-in live updates
Disclaimer: This article is pure work of fiction and we really don't know if Obama did visit India. Please take this with a pinch of salt.