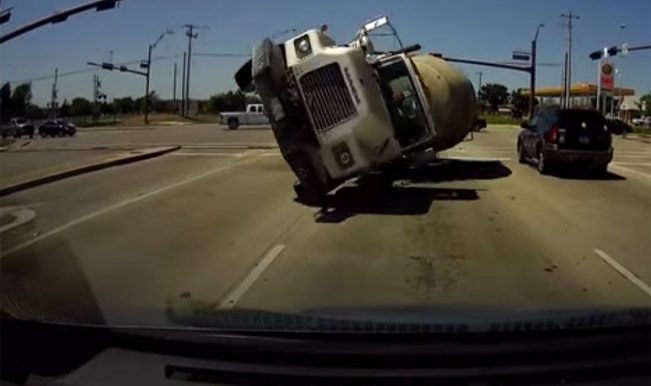 Dashboard cameras are a good means of recording road rage and other accidents so that there is video evidence of who is at fault. The Russian meteor strike near the Ural mountains were also caught by several motorists on their dashboard cameras but the latest addition to the thousands of dashboard camera videos posted online is probably the scariest one ever.
Ever wondered what you would do if a scene from Final Destination actually happened like a truck carry tree trunks veers out of control towards you? A professor at a Texas university had a similar experience when he was stationary at an intersection in his Toyota Sienna when a speeding Cement Mixer Truck jumped red light and lost control before flipping on its side and colliding with the Toyota.
The hair on your neck will be standing straight when you watch the video which has been edited as it is sourced from a news channel which deems it unsuitable for viewing past the point where the cement mixer almost hits the Toyota while it is diagonally speeding towards the car.
Here's the video of probably the scariest video caught on video this year.