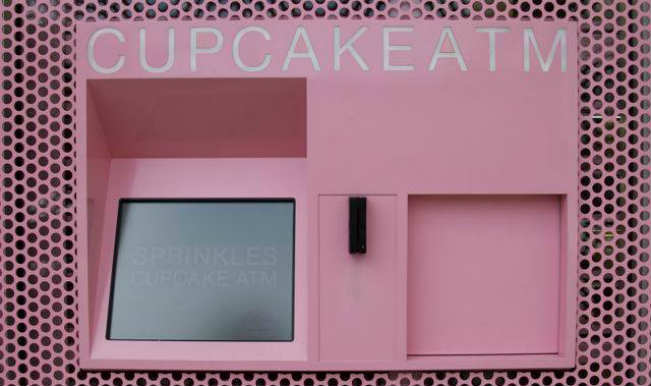 You can't be sad when you are holding a cupcake! Yes the miniature version of a cake that is so very irresistible. People who crave sweets have found a brand new and amazing 24 hour cupcake vending machine. Sprinkles, a Los Angeles-based bakery recently installed a 24 hour cupcake vending ATM machine in New York City's Upper East Side.
The cupcake vending machine feeds you at your demand. It provides you a warm freshly baked and irresistibly tempting cupcakes. The machine holds 760 cupcakes at a time in 20 different varieties of flavours including banana dark chocolate, cinnamon sugar, red velvet, and Cuban coffee.
Just like any other ATM this too works the same way.You need to make your selection as per your choice, swipe your credit card and voila your treat gets to you in a pink and brown box!
As expected, people have been rushing to the place, to experience their share of happiness, with a boxful of freshly baked cupcake. The ATMs are restocked two to three times a day so that the customers get freshly baked goodies to grab. The vending machine is a bliss to the those who can't buy happiness but sure can gobble a cupcake and that's kind of the same thing.
Bakery founder Candace Nelson says the idea was borne from her own late-night pregnancy cravings. "Even as Sprinkles' founder, I couldn't get my midnight cupcake fix! I thought 'there has to be a way' and so the concept of the Sprinkles Cupcake ATM was born."– Bakery founder Candace Nelson
This is not the first time they have come up with something different. This is the company's fifth cupcake ATM, with ones already opened in L.A., Chicago, Dallas, and Atlanta. A Cupcake ATM was also just installed in Las Vegas.