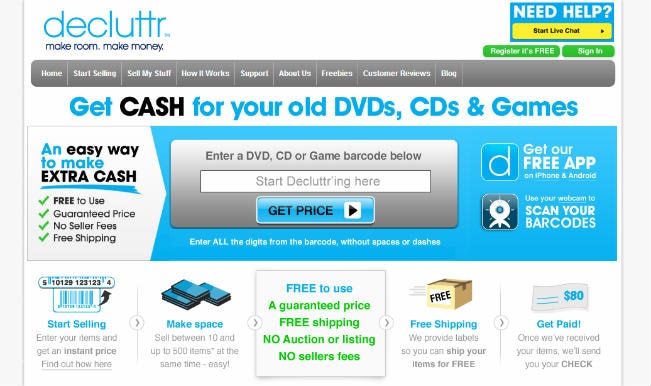 Ever thought of a place where you could give your old CDs, DVDs or video games, that you haven't used in forever? How about getting paid for it too? And you don't even have to pay for postage. Unbelievable? Believe it! (Read: Firechat – An app that lets you speak to a group of random people!)
A company has made the purchase of these items their business model. They buy anything you want to mail them, even if they have many copies of the same item. And guess what, they even received almost 150 million dollars in total revenue last year, despite a lack of marketing!
The concept is simple. Though the number of online media distributors has spelled death for the 'physical' counterparts, the market still exists. But people still resort to selling on sites like Amazon, where the item needs to be listed. Even after going through the process, the earnings are minimal.
However, the company, called Decluttr, organizes these items in one place. But why would they buy something they already have a copy of? The reason is, if they do not buy a user's first item, they lose the user. That is why they buy it and pay the minimum, with the hope that the next item the user brings will be more valuable. The only condition for Decluttr buying a user's items is that it needs to be sent in with the original artwork.
After this, Decluttr sells these items with almost a 50% profit margin. The amount that someone has to pay for an item on Decluttr is controlled by an algorithm. It analyses how many copies of it are present, how much it sells for on competing sites, and how quickly it sells.
The company was originally started in the UK as 'musicMagpie' but expanded to the US where the name was changed to relate to Americans.
The process to sell an item is simple. After downloading the Decluttr app, it needs to be used to scan the barcodes of the items that you wish to sell. The app then works how much the user will be paid for it, Though he/she needs to sell a minimum of ten items, there is no upper limit. When the items are received, the user receives a confirmation, and the items are promptly listed on selling sites as well as Decluttr's site for resale. On purchase by interested buyers, the items are then made to look good as new and mailed off to the new owner.
The company does not reveal the selling price of the user's items to the new owners, since they do not want to inspire the creation of rivals due to their currently good profit margins. Also, doing so would violate their agreements with companies that they also put up items on, like Amazon and ebay.
How about the items that are of little value due to less demand and large number of copies? Well, Decluttr is planning to launch a wholesaling business, where it would sell these items in bulk to dollar shops. They are also looking to survey countries where physical CDs and video games are popular, to create markets for their items. Besides media, Decluttr is expanding to used electronics and designer clothing, where these items would also be refurbished and resold to potential consumers.