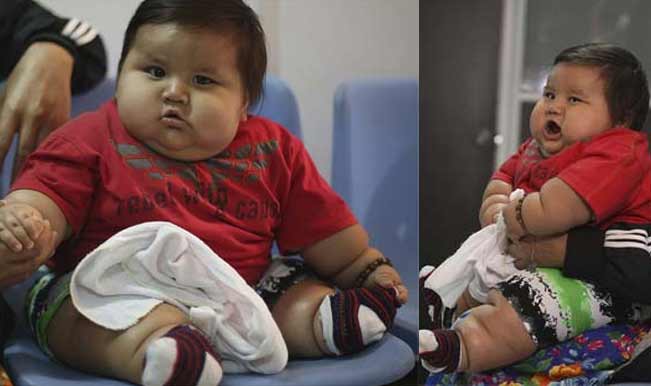 Mother's love knows no boundary but in the case of eight-month-old baby Santiago Mendoza it became life threatening for little toddler. Baby Santiago Mendoza weighs close to 20 kg, equivalent to the weight of a six-year old child. He is surely the cutest but at the same time most obese toddler in Colombia.
Santiago's condition was a result of instant solution of feeding him every time he cried by his mother Eunice Fandino. Eunice self-confessed of her baby's condition on her ignorance and said that she took to feeding him every time the little boy cried for something.
Santiago's condition would have deteriorated, had Eunice Fandino not reported to Chubby Hearts, a Colombian health charity. Eunice called them up to inform that the baby became too heavy to be lifted or taken outside as a result of his excessive weight gain. This is when Chubby Hearts came into action and took Santiago away from his family for immediate medical attention. Santiago had a history of medical run-ins because of his escalating weight.
Santiago was at risk of suffering from diseases like high blood pressure, diabetes, or even heart attack in the future. But looks like Chubby Hearts are making sure to keep chubby Santiago have a great and healthy life ahead.