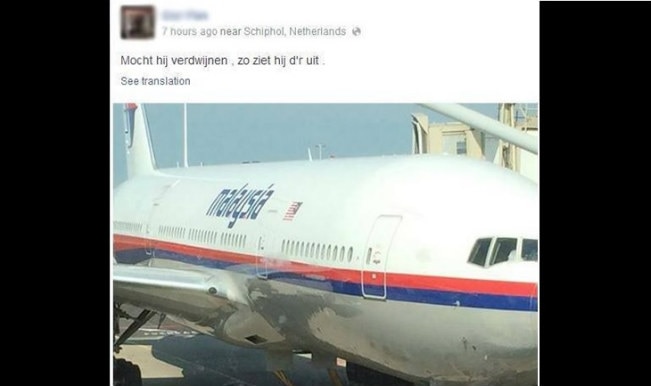 This sounds straight out of Final Destination script but alas this turned out to be real for the Dutch passenger. Cor Pan, a Dutch passenger travelling in the ill-fated Malaysian Airlines flight MH17 posted a picture of the airlines before boarding the flight at Schiphol Airport in Amsterdam, on his Facebook page with caption, "'Mocht hij verdwijnen , zo ziet hij d'r uit' that when translated into English means 'In case it goes missing, here is what it looks like'. The post by Pan has been shared 11,000 times on Facebook. The Malaysian Airlines flight MH17 was shot down by pro-Russian separatists in Eastern Ukraine on Thursday.
Cor Pan was one of the 298 passengers flying on the MH17 from Amsterdam to Kuala Lampur. The Malaysia Airlines MH17,  Boeing 777 had no survivors left and looks like the joke posted by Pan turned out to be the worst truth ever seen. This is second Malaysian Flight being tragically lost just after the loss of Malaysian Airline flight MH370.
It looked like Pan posted the joke in reference to the sudden disappearance of MH370 from the horizon but would not have thought in his wildest dreams of becoming a part of such horrifying death. Most of the passengers on board were Dutch nationals.
The shooting down of Malaysian Flight MH17, a Boeing 777-200, using the BUK Missile by the separatists brought the nightmarish memories of the disappearance of Flight MH370. The case of MH370 remains to be one of the biggest aviation mysteries in the history.