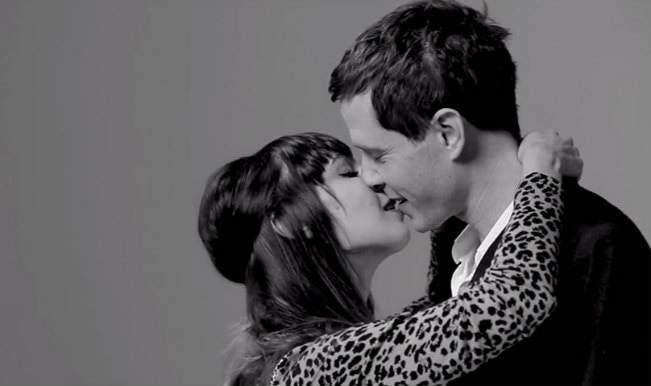 The three and half minute spanning video shot by Tatia PIlieva actually managed to attract a lot of people and made them to relive their first kissing awkward memories. But sorry people it wasn't a real social experiment asking strangers to kiss each other.
Viewers went on and on about how beautifully that video was made and how realistically it managed to capture the first time awkward experience. Shot amazingly in gray scale with an adorably soundtrack music by SOKO "We Might Be Dead By Tomorrow" in the background humming and saying "If you're not ready for love, how can you be ready for life?" And the nervous and hesitant strangers asking name trying to lose awkwardness starting with a small kiss and later losing themselves into a wild and passionate kiss wowed the viewers. It is why that "20 People kissing For the First Time" short film by Tatia Pilieva went totally viral and is all over everybody's Facebook feed. People thought it was just so beautiful and adorable and cute and romantic and sweet and many more romantically inclined adjectives.
Well it turns out it was a commercial for clothes! And most of these supposedly strangers are actors who are professional performers, experienced in acting out love, sex and intimacy for crowds. And all of them were wearing LA fashion label Wren's fall 2014 collections apparels.
"The key trick I used was not to say 'action,'" said filmmaker Tatia Pilieva. "I've done lovemaking scenes before, but there was something so tender about this that we all kind of melted behind the five cameras we were using."
"We kind of grouped them together just by instinct," Pilieva said. "I was really nervous at first, but you can see how some of the people responded." "At least one couple went to the park for breakfast after, and another couple I heard winded up going to lunch," Pilieva said. "I'm positive at least some friendships developed. I don't know if any romantic relationships developed, but I could just be out of the loop."
It just wants us to make us go and buy the v necks and seamed caps so we make us look more trendy and kissable like them.
What we perceives as raw emotions captured perfectly onto camera was just another medium of marketing tool used to manipulate us emotionally into selling the cool apparels. How more can the advertising people stoop to manipulate us and treat us like marketing experiments?