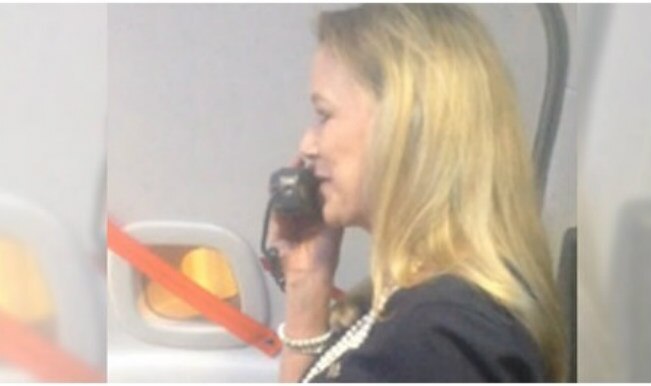 Tired of hearing the same old flight safety spiel every time you board an airplane? Well, the passengers on this 737-800 had a much needed break from that, and it was hilarious!
A flight attendant spelled out the safety instructions to passengers in the form of a stand up act. Martha Cobb works as a flight attendant for Southwest Airlines, and while she had to inform the passengers on the various safety measures, she even managed more than a few jokes. The briefing, which took place before takeoff, was recorded and posted online, and one can see the laughing passengers as she speaks.
Cobb, also known as Marty, started off by telling passengers that they would pretend to have their attention for the instructions. That made them alert to what was happening. She continues with the words, "..my ex-husband, my new boyfriend and my divorce attorney are going to show you the safety features," and the passengers begin to laugh. But she doesn't stop there, she continues to talk about the seat belt, and asks the passengers to position it low across one's hips, "like my grandmother wears her support bra." By now, passengers are raucously laughing and giggling, and they are all captured on camera.
Then Cobb, originally from Houston in the US, cautioned the passengers, who by now were red in the face with laughter, and said that it was a "no-smoking, no-whining, no-complaining flight" and even added that it was actually "a 'please' and 'thank you' and 'you are such a good looking flight attendant' flight."
Cobb kept on with the funny monologue, and the passengers were in splits. She even went on to say that she was sorry if anyone was travelling with a child, and referred to the floor lighting as disco lights!
As soon as she was done, she welcomed all the passengers. They all broke out into a loud applause, and lots of cheering. Though the response from them excited Cobb, she was even more overwhelmed by the response on Youtube – the video has raked in more than four million views until now!
Cobb said that they had told the pilot of the plane that they were going to do this, and then had an extra flight attendant on board to film it. She had apparently perfected the hilarious speech over some years, and now finally decided to record and upload it.
However, she says that stand-up comedy was never her forte. She said that she had studied restaurant and hotel management, but ended up doing her current job. "I was trying to be a Brazilian swimsuit model, but that didn't work out… Now I'm tossing out Coke and peanuts. How'd that work out?" she says.
And what did Southwest Airlines have to say about the incident? Well, they loved it! The company is known for its different take on travelling by air, and Cobb's speech encapsulated that. A spokesperson for the company said that they were more than satisfied by the individuality they created with their brand and those who worked under it. They also added that Cobb was a prime example of this individuality. In addition to this, the Airlines was always working to make the experience of travelling by air a less cumbersome one, given the security measures. And according to the spokesperson, the people seemed very happy to have heard the speech, which made them comfortable.
The proud airline company gave its now famous flight attendant some time to attend to the media and give some interviews. According to her, she really wants to meet either Jimmy Fallon or Ellen DeGeneres, both talk show hosts. We hope this will happen soon!
Watch the video here: