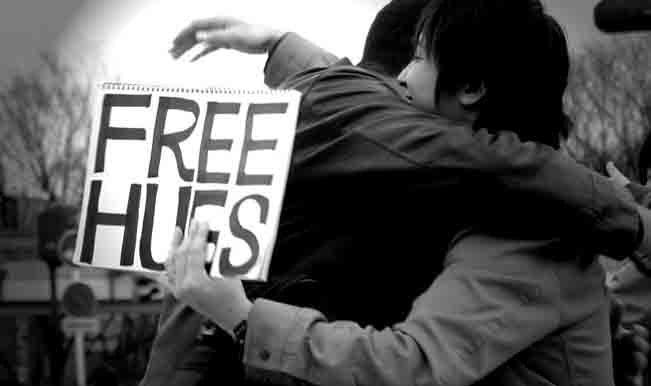 The happiness of someone genuinely hugging you is priceless. On stressful days a hug is all we need.  Well, nobody had time for others problems or hug at regular intervals to keep you happy. Today, everyone tries and finds ways to keep oneself happy. In that process are we not being selfish?
Well, whatever is the case what if somebody down the road stood with a board saying that he or she is ready to give you a free hug? Will you hug the person back?
Well, Free Hugs is the real life controversial story of Juan Mann, a man whose sole mission was to reach out and hug a stranger and bring a smile on their face. The presence of Free Hugs Campaign is today felt across the globe.
However, this gesture of love and kindness was banned by officials. But with maximum public support the campaign is back. Today it is legal in United Nations, Australia, Poland, Portugal, China, South America, Spain and many other countries.
In the spirit of the Free Hugs Campaign please pass this video to a friend and HUG a stranger! After all, may be you can make a difference in someone's life. The video below is of the man who is behind this amazing concept – Juan Mann. This video was recently voted the YouTube Video of the Year.
They also have a website (freehugscampaign.org) where people can share their stories on how they made a person happy by hugging him or her or helping that person in some manner. They believe that this public forum will help in kick starting this campaign in various other cities too.
Check out the amazing video here: