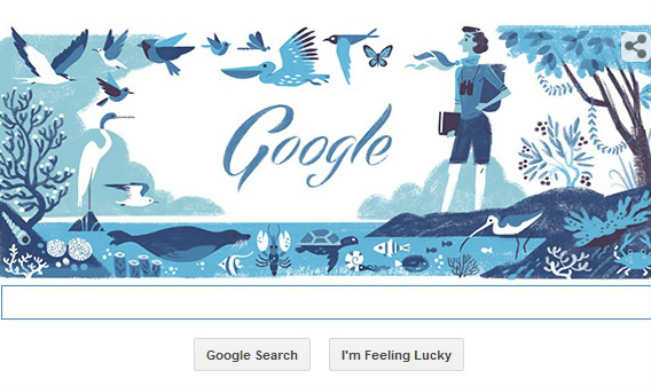 Google doodles are one of the most things on the internet that are eagerly awaited. The internet giant continues to mark its respect for female scientists with an  image to mark the 107th anniversary of the birth of environmentalist author Rachel Carson.
Rachel Louise Carson was an American marine biologist and conservationist whose book Silent Spring and other writings are credited with advancing the global environmental movement.Carson was born on May 27, 1907, on a small family farm near Springdale, Pennsylvania, just up the Allegheny River from Pittsburgh. She was the daughter of Maria Frazier (McLean) and Robert Warden Carson, an insurance salesman.[5] An avid reader, she also spent a lot of time exploring around her family's 65-acre (26 ha) farm. She began writing stories (often involving animals) at age eight, and had her first story published at age eleven.
'Silent Spring' is widely credited with helping launch the environmental movement. In 1994, an edition of Silent Spring was published in which Vice President Al Gore wrote the introduction.
The Google doodle celebrates the birth anniversary of this marine biologist showing Rachel Carson in the field, with binoculars, rucksack and notebook, surrounded by just the type of thriving ecosystem she warned the world – accurately, as it turned out – it risked losing. Animals that featured in the doodle include a seal, a turtle and crab, while birds depicted include a pelican, a tern and a heron.