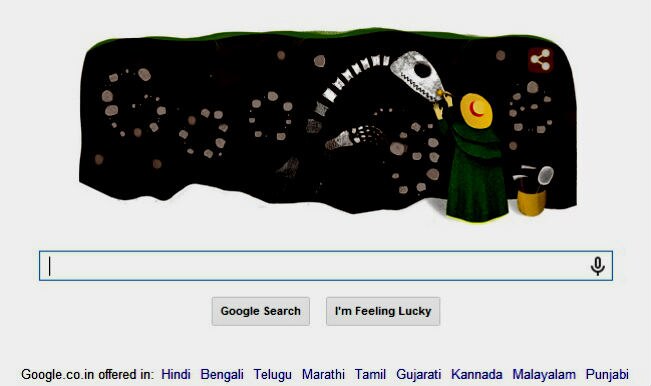 Today's Google Doodle celebrates the 215th birthday of the not so famous but legendary female palaeontologist and fossil collector of Britain. Anning, born in 1799 was one of the ten children  to Richard and Mary Anning of Lyme Regis, situated on the southern shores of Great Britain. She is best known for her work collecting fossils from the Jurassic period near her home in Lyme Regis Dorset.
The American internet giant, commemorates her contribution in the field of palaeontology by showing her wearing a green robe and uncovering a dinosaur's fossilised remains.
Anning's contribution were significant to alter views in scientific thinking about prehistoric life.Among her many discoveries was the first ever correct identification skeleton of an ichthyosaur. Anning family, though poor and anonymous, was into fossil hunting. After Mary's father, Richard, died Mary's discoveries were the sle mean to nourish this fatherless family.
Although she is famous for the discovery of the skeleton structure of an ichthyosaur, her most important find, from a scientific point of view, was her discovery of the first plesiosaur. Only after this find was she actually recognised as a legitimate fossil collector.
Unfortunately, fame for her was short lived as she was a woman in a man's society in Britain. Most of Mary's finds ended up in museums and personal collections but they were never credited to her. As time passed, Mary Anning and her family were forgotten by the scientific community and other historians, due to the lack of appropriate documentation of her special skills.Adding on to this, her social status and her gender were also other reasons why she merely became a mirage in a huge dessert.
Lady Harriet Sivester, the widow of the former Recorder of the City of London, even wrote in her diary after visiting Mary Anning:
". . . the extraordinary thing in this young woman is that she has made herself so thoroughly acquainted with the science that the moment she finds any bones she knows to what tribe they belong. She fixes the bones on a frame with cement and then makes drawings and has them engraved. . . It is certainly a wonderful instance of divine favour – that this poor, ignorant girl should be so blessed, for by reading and application she has arrived to that degree of knowledge as to be in the habit of writing and talking with professors and other clever men on the subject, and they all acknowledge that she understands more of the science than anyone else in this kingdom."
Mary Anning died of cancer, on 9th March 1847 as a skillful palaeontologist died of cancer and the age 47. She remained unknown even after her death unlike few other discoverers. It was finally in 2010, when Anning was included, by the Royal Society, in a list of the ten British women who have most influenced the history of science.