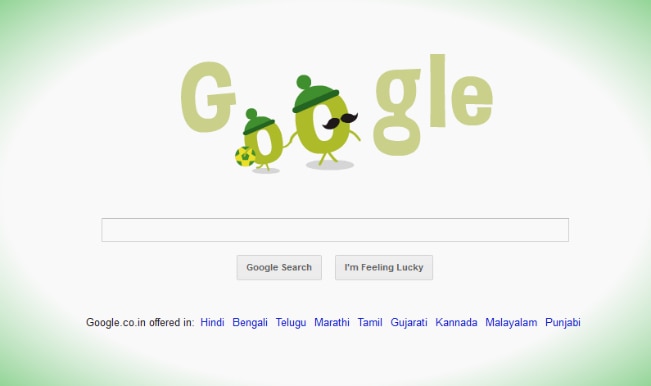 It's just not the FIFA World Cup fever that has hooked up Google recently. The search engine giant came out with yet another splendid doodle to mark the celebration of Father's Day. The second Sunday of June, is a day on which Father's day is celebrated in India. Google has well tapped the currency of the issues and has been shelling our amazing doodles one after another. The latest on the bandwagon celebrates the Father's Day but with a tinge of the ongoing World Cup in Brazil.
The recent doodle betters its previous doodles as it well portrays the father-son duo in its doodle but had ensured that it doesn't miss out the FIFA World Cup fever in Brazil. The moment you land on the Google's homepage it gives a instant smile to one's face in amazement.
The double O's in the Google very welll shows a father-son relationship. While the first 'O' being smaller is deemed to be a son of the bigger 'O' in the word. Like a father takes his son to places, holding his hands, the doodle shows the relationship exceptionally well.
Google has not forgotten to keep out the FIFA fever off it; as the son is carrying a football in his hand which is again similar to the colours of the Brazilian flag. The doodle is mainly in green colour which resembles the colour of the football pitch.
The Google's doodles continue to surprise us! The father-son and a tinge of FIFA is pure creativity! Just as when it was being carried away in the sway of FIFA, it has come up with yet another doodle, which has yet again delighted us.