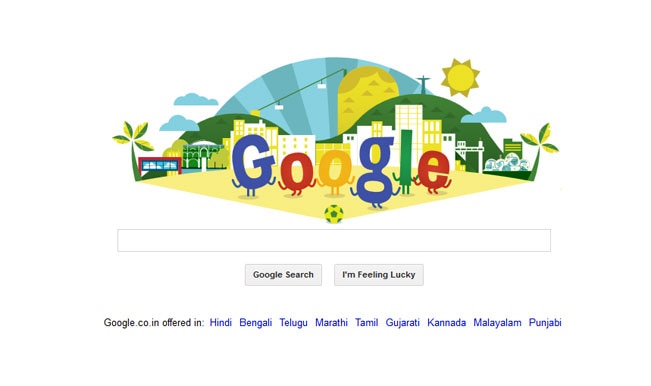 Google launched a doodle on Thursday to mark the beginning of 2014 FIFA World Cup. The FIFA World Cup doodle has a football popping on the screen and hitting a goal. The yellow and green colour ball reflects host nation Brazil's flag colours. As the ball lands in the center, the Google homepage comes alive with some spectacular animations reflecting the football fever.
The letters Google also start cheering as bright sun shines in the background. Google has been coming with doodles with delightful animations in its past and the FIFA doodle today comes as another delight for the netizens.
The Google doodle shows a lot of creativity from the moment the ball rolls on the screen. There is lot of excitement as animated hands jump in excitement on a beach for the kick-off, while there's an animated version of Rio de Janeiro in the background which includes iconic landmarks such as the Redeemer pictured atop the Corcovado Mountain, cable cars travelling to the Sugar Loaf Mountain and not to forget the 100 ft statue of Christ.
FIFA 2014 officially begins tonight with the first match being played between Group A teams: Brazil and Croatia, at the Arena Corinthians in Sao Paulo.
You can view the doodle clicking here!
Click here to see the FIFA World Cup 2014 Brazil Schedule