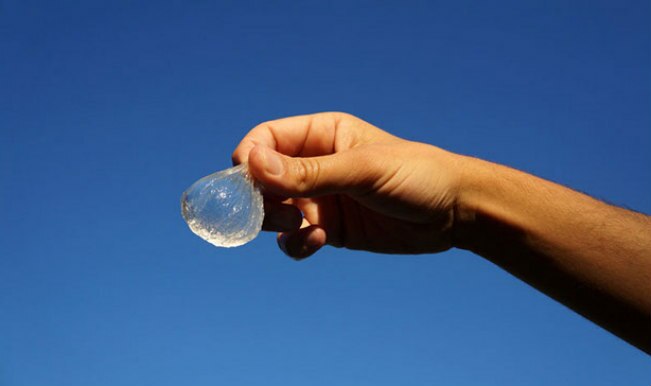 In spite of a lot of whacking of head to stop the overbearing pollution, we fail to do so. But there seems to be a solution to decrease the pollutants like cans, plastic bottles that we can't recycle. So there has to be a way to stop polluting the earth?
Few students from a London based industrial design department strived to create a blob of water that serves as an edible source of water. So this will help to eliminate the effect of waste pollutants. This blob of water is called 'Ooho' and it very safe and sterile for consumption and need not be discarded after use since it is totally edible.
And the best part is that it is affordable to make. The basic constituents that make Ooho is brown algae and calcium chloride. The mixture creates a gel around itself to hold the water together. So the whole package is safe and sterile to be consumed.
Most people take to drinking water when they travel and the 8% of the plastic used cannot be recycled, so this path breaking technique could be a drastic change to replace the plastic bottles and these are low cost makes them even more positive nod.
The only barrier in this project is that the students behind this project have not been able to spot a way to keep the blobs clean prior to consumption.
Rodrigo García González one of the students says that anyone can make these in their kitchen with the right knowledge and that the process is not as as complex as it seems. Despite the simplicity, the project still managed to snatch up a Lexus Design Award.
Who knows the future of water may come to us soon and we might start drinking ooho water blobs!