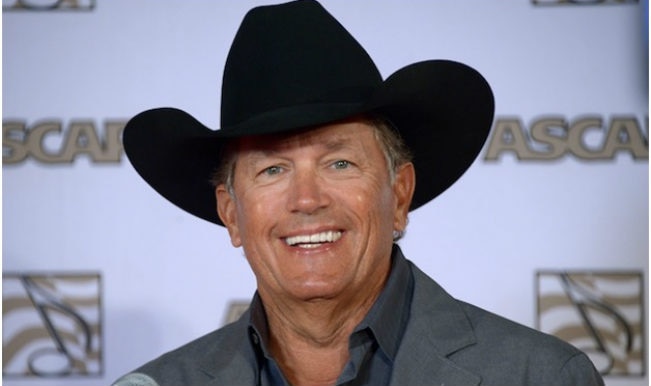 One of the most successful country singers of all time, George Strait has created more number one hits in his career than probably any other artiste. And his songs continue to be relevant even in this day and age. He has actively experimented with his performance styles, but he sticks to his signature way of singing, which makes him unique and memorable.
On his birthday today, we've made a list of his top five songs, worthy of a listen. Enjoy.
5.  'Write This Down'
The painful song describes a relationship that is almost at the brink of failure. Strait summarises a lover's plight, when the one they love is walking out the door. He tells her to remind herself of the feelings that he has for her, and hopes that she will change her mind.  A heart-wrenching vocal performance makes this one of the most moving songs he has sung.
4.  'I Cross My Heart'
As soon as this song was released, it became a staple at weddings all over the world. It is a beautifully made song, and it is relevant even today despite being made almost 22 years ago. It is simply a love song, addressed to a person's lover and the world. And it is a song that everyone in love is waiting to hear.

3.  'Check Yes or No'
This sweet song resonated in many of its listener's minds. It told a story of the classic love between two kids, who dreamed of getting married later in life. At some point in all our lives, we've found someone that has made us want to do the same. The song is based on the simple question that one lover asks another: "Do you love me? Check yes or no."
2.  'I Saw God Today'
This song was second in popularity only to the number 1 song in this list, but it received rave reviews from critics – not to mention many awards as well. The song tells a story of a religious man who had not really 'seen' God, until his child was born. The beautiful song made people listen to it on repeat, and sing along to the relatable lyrics.

1.  'All My Ex's Live in Texas'
This is undoubtedly one of Strait's best and most popular songs to date. He casually sings about his past relationships, and he is quite calm while doing so. His smooth voice narrates a story of all the women he had been with in Texas. His vocal delivery is quite amazing here, as are the rhymes in the song. He sings about breaking the women's hearts by leaving them. They are under the impression that he is dead, but he says that he is actually alive and quite okay!