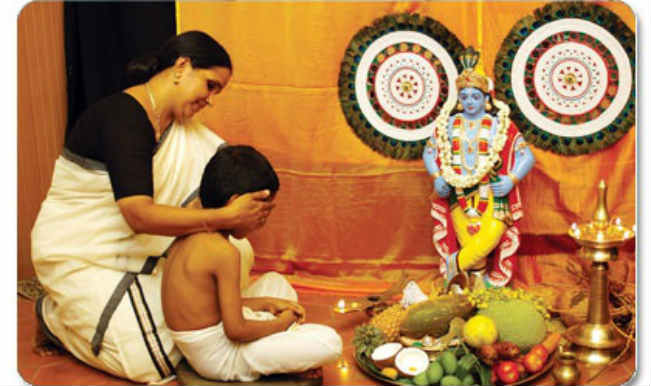 Vishu is the New Year according to the Malayalam Calendar and is considered to be the first day of the Zodiac Calendar. The Vishu Kani is the Platter decorated in front of a mirror in such a way that the complete reflection of the platter is visible on the mirror. It is meant to bring good luck and prosperity for the beginning of the year.
The festival signifies sun's transit into the first zodiac sign Meda Raasi. This falls on the day of spring equinox. During the equinox, a day has equal number of hours of daylight and darkness, which describes the origin of the word "Vishu" which in Sanskrit means "equal". It is also the day the farmers begin with their agriculture.
The plate is decorated with various fruits, flowers and gold, the mirror placed in front f this platter and the delicacies made. As Keralites all over gear up to celebrate their new year with new clothes, payasam and the traditional Vishu Kani, there are many who do not know the reason behind this joyous festival.
The preparation of the festival begins a day ahead as people decorate the Vishu Kani on the night before. The platter must contain certain components like Raw rice, Fresh lemon, Golden cucumber, Betel leaves, Kani Konna (Cassia fistula), Arecanut, Metal mirror, Konna flowers (Cassia fistula) – these are yellow flowers which usually bloom around the same time as Vishu, Holy texts, Coins and currency notes.
Another major part of the festival is the Vishu Feast called Vishu Sadya. Delicacies like Medu Wada, Rice, Sambar, Rasam, Payasam, etc. are prepared and served traditionally on a Banana leaf. There are three most important deliciousness prepared for this day, namely, Vishu Kanji, Thoran and Vishu Katta. The Kanji is a mixture of rice, coconut milk and spices; the Katta is a delicacy prepared from freshly harvested rice powder and coconut milk served with jiggery and the Thoran is a side dish made with cabbage.
Another important part of this celebration is the tradition of elders giving money to younger ones in the family, this is called Vishukkaineetam.