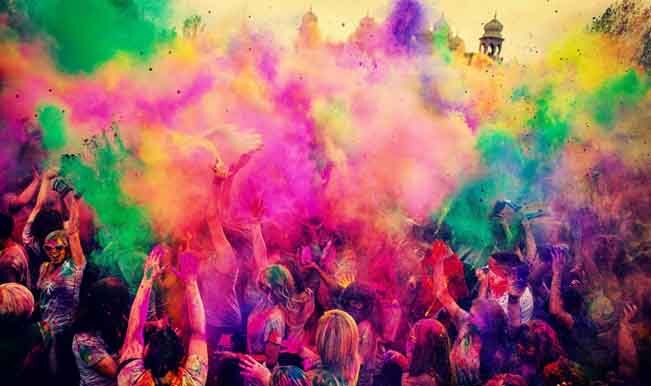 The colourful festival fills us up with zest and a lot of festive enthusiasm. The approaching festival is more fun than any other festivities but it often leads to some callous problems. Don't assume it to be your consent free day. Don't make the festivity turn into a form of hooliganism, vandalism and an excuse to hit and hurt people by throwing balloons and in worst cases raw eggs and rotten tomatoes. To steer clear of them simply keep in mind the following guideline to help you play holi the cool way without getting into some slips and errors. (Read: Save your skin from damage this Holi)
Use organic colours
Long back people used to play Holi the organic way. But now for our convenience we have moved to synthetic ones. The dangerous natures of the synthetic colours have been repeated on and on by the professionals but we couldn't care less. Organic colours are healthy as well as easier to remove from our skin. So use organic colours and avoid synthetic one to spare the damage to other and to you.
Don't spray water colours into the face and mane
You smear colour onto face but avoid messing up the hair by spraying coloured water onto others hair. Keep a distance from hair and face.
Don't attack with water balloons
Water balloons can be dangerous since it can hurt people. Do not recklessly flung them onto others. And since have a potential of hurting, be careful not to attack them onto women.
Be pet friendly
Do not injure an animal or abuse and use a stray as your amusement's cause. Many a times it is observed that people end up putting colours on stray animals. Throwing Water balloons at stray animals is a cruel thing to do. The impact could hurt them and bring about some kind of an internal injury. Also the colours on the skin bring about skin infections. It is a cruel thing to do to the mute animal. Leave the furry friends alone.
Don't apply colour to women you don't know
Bura na mano Holi hai doesn't work here. What is morally and ethically wrong shall remain wrong. So touching fondling and even applying colour on Hoi to a woman without her consent is wrong. Also do not approach a woman with wrong intentions.
Go easy on drinks
The bhang craving is too strong to ignore we all know. But like any alcoholic extra dosage bhang also gives you an ultimate kick. So the lesser you consume the more you will be in senses to enjoy the festivities. Also it will help you stay away from the ugliness of a bad Holi hangover. (Read: Holi and St Patrick's Day on the same day!)
Respect other people's personal space
Don't impose your rules of playing Holi onto other. Not everyone might be keen on playing with colours. Everybody has a "personal space," so avoid intruding their protective invisible bubble and respect their wishes.
Don't imitate Bollywood actors
Holi cannot be completed without famous Bollywood songs that have become an inseparable part of the festival of colors. On the occasion of Holi you can surely get to hear these songs blasting from loudspeakers in every nook and corner. But don't go all over her in the Ranveer Singh style Lahu muh lag gaya way from Goliyo Ki Rasleel Ramleela. Conduct yourself well, don't go overboard and get swept away in the festivities.