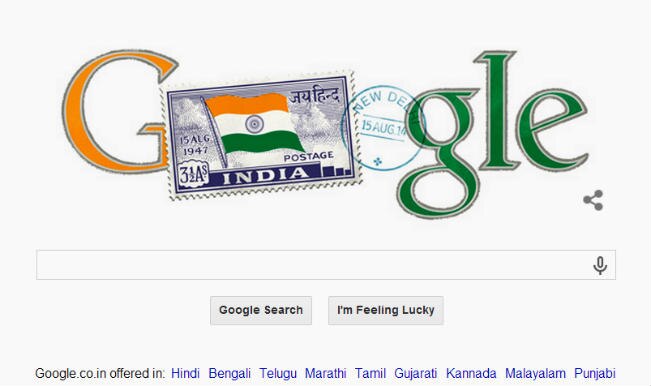 India celebrates its 68th year of Independence Day on August 15, 2014. Watching the tri-colour – Saffron, White and Green makes all Indian proud across the globe and it becomes even more special when we see it flashed right across the screen of users! Yes, the search engine giants Google marks the importance of this day in its brilliant and innovative way by celebrating with Independent India's first stamp as Google Doodle as it tells the tale of Indian Independence on 68th India Independence Day 2014.
Google has adorned their homepage with the special Google doodle to mark the 68th Indian Independence Day. The logo of Google starts with an ordinary G but with the saffron colour, which is the colour of the top stripe in the Indian flag. There is a postage stamp with India's flag on it and a government stamp for the blue Ashok chakra. The last three letters are in the green shade of the Indian flag.
The postage stamp used in the Google Doodle is that of the first stamp of independent India shows the new Indian Flag. It was meant for foreign correspondence. The First Stamp of Independent India was issued on 21 November 1947 depicting the Indian Flag with the patriots' slogan, Jai Hind (Long Live India), on the top right hand corner. It was valued at three and one-half annas.
Earlier, In order to pay homage on Pakistan Independence Day 2014, search engine giants Google posted a beautiful doodle of blooming flower-shaped Pakistan Monument in Islamabad, Pakistan. The Pakistan Monument in Islamabad, Pakistan, represents Pakistan's progress as a rapidly developing country.
Independence Day SMSes: 10 Best Patriotic WhatsApp & Facebook Messages for Indian Independence Day 2014