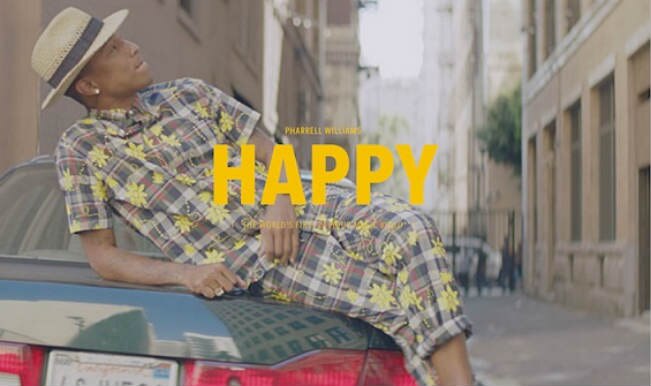 "Clap along if you feel like a room without a roof, Because I'm happy, Clap along if you feel like happiness is the truth, Because I'm happy"
Yes, this what you will be humming throughout the day once you listen to Pharrell Williams 'Happy'. The thing about this song is that it will uplift your mood in seconds, there is something so chirpy and wonderful about this track that it should be totally on your morning playlist! This song can make anyone's day. The song has made the whole world happy. Everyone and anyone is grooving on this catchy and wonderful melody. The happiness wave didn't even spare Amitabh Bachchan, he also went ahead blogged about the song.
The song topped most of the countries music charts and was an absolute hit. This song was featured in much love animated movie 'Despicable Me 2′ and there on Pharrell is making everyone happy! What makes us happy ( and we hopefully make you too) is people dancing on this track. Many countries sent their videos, where the people in that country were grooving on this 'feel-good' track.
The Indian version on 'Happy' is such a mood-lifter! There all kinds of people from India grooving on this song. The video captures the essence of being blissfully happy! The video depicts people of every age group, tapping their feet on the tunes of 'Happy'. From the bus ticket collectors to cute grannys, you will see everyone clapping along and being just happy!
Watch the video and join the 'Happy' movement: