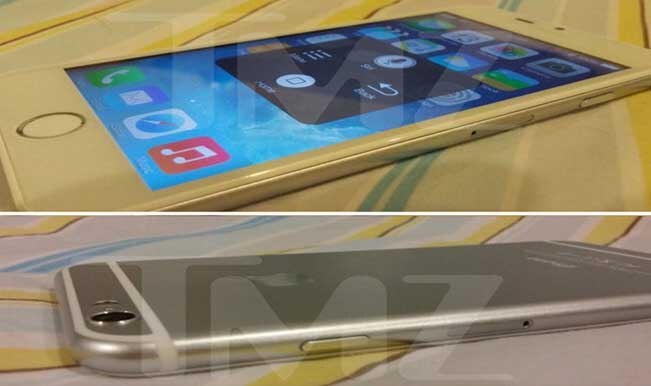 The iPhone 6 launch is the next big thing in tech circles and online forums with bloggers and tipsters trying to get as much information as possible on the internet as possible. But, as we have seen in the past, the need to win this rat race produces a whole lot of fake products from fantasy renders to cheap knock offs and some very intricately made fake models but very rarely are they picked up by a big name, also in the rat race, who falls on his face with watermarked images of an easy to spot rip off of the next iPhone, the iPhone 6.
TMZ claims that they have their hands on a smuggled handset of the next iPhone from Apple apparently dubiously taken off the manufacturing plant in China. TMZ, basically a celebrity gossip website claims that they have what is the final version of the iPhone 6 with them but 9to5mac has shown the world what a pack of lies the gossip site has come out with despite their attempt at a believable story of an ex-employee managing to sneak the phone out of the Foxconn factory.
If there is any truth in the news then Foxconn will surely be looking closely at their employees and if they are successful then this attempt at an expose will end badly for the 'smuggler' with legal action possible.
This is the nature of tipsters and whistleblowers, they are on the edge but by the looks of the fingerprint scanner/button, the screen displays iOS 7 instead of iOS 8's app arrangement style, the abject disregard for the fonts especially for the Calendar app while some apps are missing tells us that TMZ has been duped into believing that they have the biggest scoop about Apple's much awaited iPhone 6.
Apple is apparently set to launch two variants of the iPhone 6 on September 9 so watch this space for more info on Apple's next big thing.