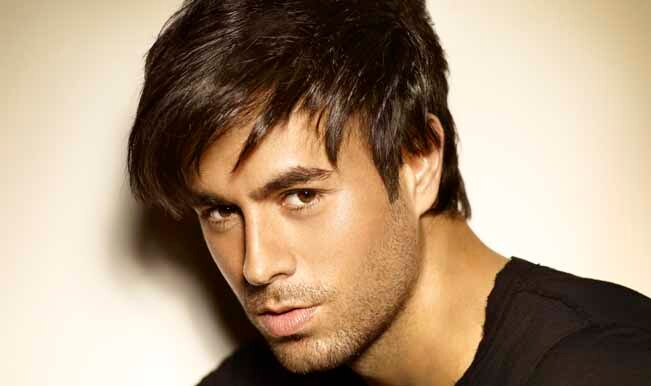 Enrique is really kicking off his latest album, "Sex + Love" with a bang, with the release of the sixth single off the album.
And he is doing it with a certain flair for sport and style.
Shortly after the release of the English version of his song, "Bailando" featuring Sean Paul, the video has also been released for the same. The 38 year old singer has been constantly featured in electronic dance music, so the song was a welcome change. Besides that, the song received extremely positive reception from his fans.
"Bailando" is track #3 on the album, and was inspired from an original version that was purely in Spanish. However, the immense popularity of the song made the singer's team want to release an English version of the same.  There were certain modifications done to the original, with the inclusion of English, a mixture of English and Spanish, and the rapping by Sean Paul.
The official music video for 'Bailando' premiered worldwide on the 11th of April, through Enrique's official VEVO account, on Youtube. In March, the song was first performed on the Today Show.
The 'Bailando' music video has been directed by Cuban producer Alejandro Perez, and was shot in various locations in Dominican Republic and Cuba.
In the video is Enrique, along with the Cuban performers, reggaeton band Gente de Zona, as well as DescemerBueno. The latter is a Cuban singer and songwriter, who composed and wrote the original 'Bailando' together with Enrique.
Though the new audio is a mix of Spanish and English, the video features the original Spanish audio.
The spectacular video has a Cuban flamenco troupe. The dancers are originally from Havana's Ballet Litz Afonso, and the pretty ladies entertain the crowd in beautiful red dresses. They are accompanied by a group of street dancers, who also show off their skills with a football. As the song plays, the football is bounced according to the lively beat. Among all this, Enrique and the other performers groove to the audio track. The entire atmosphere has a culturally rich, yet vibrant party-esque feel to it.
There are many scenes in the course of the video. Enrique makes his way dancing through different places, going from a tunnel, and then proceeding to run right through a busy street market. In an interview, Enrique said that the video that he shot was one of the 'favourites' of his entire career.
The song in itself makes anyone want to get up and dance, and now coupled with the video, it is a party!
Watch the video for 'Bailando' here: