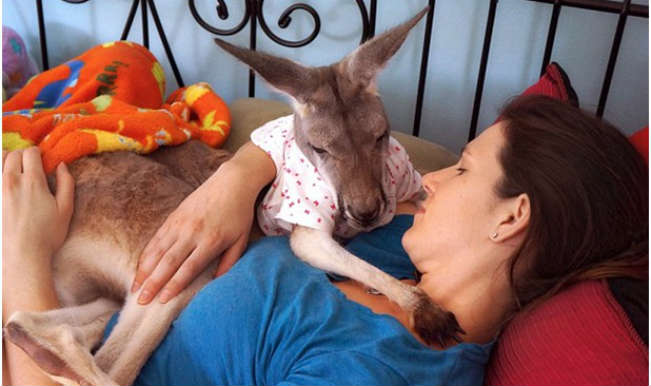 This is a beautiful story of man and beast. Or should we say woman and adorable baby animal?
Ever since Julia Heckathorn adopted a baby kangaroo, they have formed an inseparable bond.
The little girl joey, named Boomeroo by her owner, is the quintessential kid. Boomeroo travels with Julia to many schools to teach the children there about nature.
The 28 year old children's author, who has written a series of books entitled 'Search for the Hidden Clover', has adopted the kangaroo into her family ever since it was three weeks old. She has a wardrobe filled with pretty clothes, and follows her owner around the house. She even stretches her long arms out for a hug and puts her head on her owner as they snuggle together.
According to Julia, when Boomeroo was ready to be independent of her mother and leave her pouch, she was put on a kangaroo milk replacer. When this procedure was successful, she was initiated into the author's family.
When Boomeroo was a joey, she would sleep with Julia and her husband Jason. However, due to growth in size, she needed her own space. She now sleeps in a barn that has a temperature-controlling mechanism, in the Heckathorn's house garden.
Boomeroo likes to eat the grass in the garden, and spend time looking out of the window. But since kangaroos are social animals, Julia adopted a cat called Larry to give her company. According to the author, they get along well and "do everything together."
Julia speaks of raising the little joey. She says that when Boomeroo was younger, she would be carried in a bag and taken to the supermarket. This was done to ensure that the animal had sufficient exposure to humans, and could get used to having them around. Additionally, Boomeroo was not well behaved at first, much like other baby animals. However, with a little training, she improved.
Boomeroo would look up to Julia as a mother, and would follow her owner around the house. When she would see Julia, she would make a sound that was similar to the sound that baby kangaroos make while locating their parent.
Initially, when the Heckathorn family got the baby, she was wearing a skirt. The author has been putting clothes on Boomeroo ever since then. Julia buys clothes from the baby section of stores for Boomeroo. She says that the kangaroo loves wearing clothes so much that when Julia takes it off, she waits with her arms out to dress up again!
Julia has been taking Boomeroo to her talks in schools across the country, in order to engage children with nature and conservation of the environment. Boomeroo is the lead character in her series of books. According to Julia, children get excited on seeing Boomeroo, since it is the character in the book, come to life. This leads to crowds of inquisitive kids due to the fact that seeing animals like kangaroos anywhere other than the zoo is a rare chance.
Julia says that her greatest satisfaction comes from watching Boomeroo as she writes – the best feeling any animal lover could resonate with!
Julia and her husband Jason are now expecting the couple's first child together, a daughter. She said, "We are so excited to be expecting our first child, and I'm sure that she and the animals will be the best of friends. She will be a very lucky girl with wonderful experiences."
Indeed, with a jumping, lively animal companion, who wouldn't be lucky?