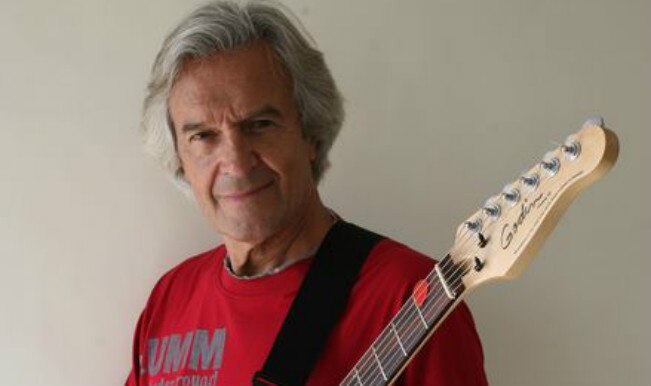 John McLaughlin the legendary guitarist most famous for his interest in Indian classical music is all set to tour India on April 4 and will perform at the Saint Andrew's auditorium in Bandra West on April 5 as part of his on going Asia tour.
McLaughlin is considered to be one of the greatest guitarists of all time (Rolling Stone magazine rated him as the 49th greatest guitarist ever), what separates him from other British musicians is the influence of Indian classical music on his works which fall in the genres of rock and jazz. He has studied Indian Classical and can play the veena. The albums he recorded with his group Shakti in the 1970′s namely Shakti, Natural Elements and A Handful of Beauty all have strong Carnatic influences. (Read: John McLaughlin Guitar Concert in Mumbai: Watch Live Streaming)
John McLaughlin's success shows us just how beautiful Indian culture in general and music in particular truly are. While several Indian musicians would dismiss Indian classical music and be inspired by western music, their counterparts abroad, like McLaughlin look to Indian music of artistic inspiration.
McLaughlin is considered a pioneer in fusion ( for the way he incorporates Indian classical themes in his rock/ jazz music) and his popularity even today shows us what potential this type of fusion has. Surely Mr. McLaughlin is as thrilled to come to India as India is to have him come.
While going to a live concert is always thrilling, going to one with such a prestigious guitarist will be a completely different experience all together. It would be wrong to call Mr. McLaughlin a pioneer (since he discovered rather than created Indian classical) the apt word for him would be "explorer" because of his exploration of a form of music which is foreign and exotic to westerners.
He is thus exposing the richness of Indian music to an audience who would never be able to experience let alone appreciate his beautiful work which is unique and commendable not only because of the music itself but also because of the multiculturalism and diversity it brings to the tables.
While other western musicians would be inspired by their own nation's music, thus not bring any true diversity to the table (with exceptions of course) but with John McLaughlin's work he is able to bring in the best of both Indian and western music and create something even better.
Music is continuously evolving, fusion of various genres of music from various nations such that it incorporates the best elements of all, could well result in the pinnacle of human achievement in music. John McLaughlin has undoubtedly inspired various budding artists not only abroad but also in India to look to Indian classical music for inspiration when creating music of their own.