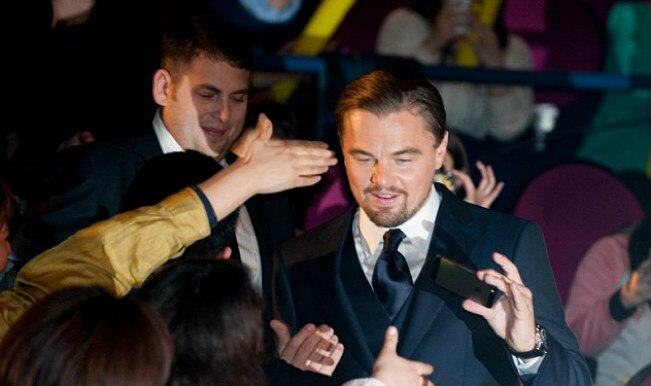 Leonardo DiCaprio wants an Oscar. And he wants it bad! The 39-year-old was impeccably calm and delivered a confident acceptance speech last Sunday after he received a Golden Globe for his role in The Wolf of Wall Street. But now he's shared something that has haunted him in the past. But have a look at the timing of sharing such a story! Only a month before the 86th Academy Awards.
Typical for someone to use their emotional card at a crucial time to gain something in their career just like Rahul Gandhi did in October. Sonia Gandhi was forced to leave the Parliament because of ill health just before the Food Bill was put to vote. The Gandhi son pulled out the health card in a rally in Madhya Pradesh and said that his mother Sonia Gandhi had put the Food Security Bill first instead of her health. And look what happened to Congress in Madhya Pradesh.
Leo revealed that before he became one of the most well respected actors in Hollywood, he was just a poor kid living in the mean streets of Los Angeles. The star revealed in a candid interview that he saw the darker side of Hollywood as he was surrounded by junkies and prostitutes before he turned to acting as an escape. The American actor admitted that his life was "like 'Taxi Driver' in a lot of ways" as he grew up very poor.
The Wolf Of Wall Street star also claimed he has never done drugs after seeing the ravages of addiction right outside his doorstep as a child. He better have not done drugs, if watching Basketball Diaries is anything to go by!
What Leo is trying to do is he's assuring everyone concerned that if he does indeed win the Best Actor 86th Oscars, the 86th winner of the much coveted prize will be drug free and boring. Tides can surely change before the ceremony on March 2nd. He now holds an advantage over Christian Bale, Bruce Dern, Chiwetel Ejiofor and Matthew McConaughey for the Best Actor.
Leonardo has been nominated for an Oscar three times in the past – for Best Supporting Actor in 1994′s What's Eating Gilbert Grape? and for Best Actor in both 2005′s The Aviator and 2007′s Blood Diamond – but on all occasions failed to take home the trophy. This time, the star has raised the stakes with his performances in The Wolf Of Wall Street. He also stands to win an Oscar for Best Picture as he also produced the film.
His Oscar-nominated co-star Jonah Hill also stands to take home the golden statue in the Best Supporting Actor category.