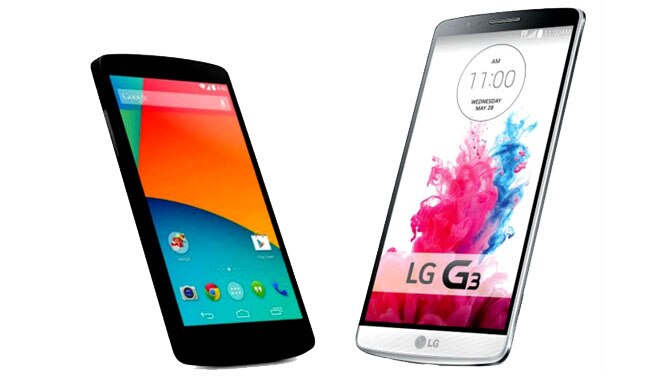 The biggest battle of the smartphones this year will be between LG G3 and Samsung Galaxy Note 4 so where does Google's comparatively economic powerhouse smartphone come into the equation? Google Nexus 5 obviously has the edge when it comes to the price tag but will you skim a few thousand bucks to go for a not-so-cutting-edge smartphone?
Here is a detailed analysis of the specifications be it hardware or software between LG G3 and Google Nexus 5.
Display
LG G3 has a mind boggling 2.560 x 1,440 pixel resolution with 534 ppi (pixels per inch) which completely overshadows Nexus 5's 1,080 x 1,920 pixel resolution with 445 ppi. Usually, the bigger the screen, the resolution seems to mean less pixel density but the huge pixel density advantage for LG G3 over the Nexus 5 will make a huge difference for the gamers.
Processor
LG G3 comes with a 3.46 GHz Snapdragon 801 processor which completely obliterates the Nexus 5's 2.3 GHz Snapdragon 800 processor. Both the devices have a quad-core Krait 400 CPU.
Weight
LG G3 at 149 grams is a bit heavier than the Nexus 5 at 130 grams. It may read like nothing but when you hold the two devices in your hand then the 19 grams difference can make a huge difference.
Size
LG G3 is a huge 146.3 x 74.6 mm with a 5.5 inch display while Nexus 5 is 137.8 x 69.2 mm with a 4.95 inch display.
Camera
LG G3 has a 13 megapixel camera with a 2.1 megapixel front facing 'Selfie' camera while Nexus 5 has an 8 megapixel camera with a 1.3 megapixel front facing camera so there is a clear winner in the form of the LG G3 when it comes to optical superiority.
Battery
LG G3 comes with a monstrous 3,000 mAh battery while Nexus 5 comes with a 2,300 mAh. This may seem like another clear win for the LG G3 but the battery needs to power a huge 5.5 inch screen with unprecedented pixel density as compared to the now-more-modest Nexus 5's pixel density. The battery backup stand-off can go either way.