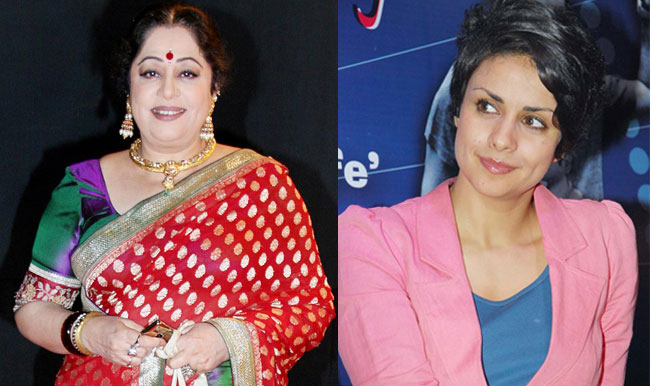 Chandigarh, March 22: They may have been para-dropped into Chandigarh with an "outsider" tag but two celebrity women from Bollywood are now claiming their "birthright" to contest the lone Lok Sabha seat here.
BJP candidate Kirron Kher and the Aam Aadmi Party (AAP) nominee Gul Panag, who claimed the Miss India title in 1999, are out to woo Chandigarh's nearly 600,000 electorate, 60 percent of which is in the 18-40 age-group. The voting is on April 10.
While Gul Panag, 35, seemed to make a noiseless entry into the city after the AAP announced her name, Kher had to face protests with black flags and slogans and even eggs being hurled at her.
Being from a new political party which is still trying to create its space in Chandigarh's political environment, Panag discounts suggestions of her being an "outsider" who lives in Mumbai.
Describing herself as a "city girl", Panag told media recently after being named the AAP candidate: "My roots are in Chandigarh. It's been my family's home ever since my grandfather, Colonel Shamsher Singh, settled here in 1965. It is where I grew up and studied and it's where my family lives."
Born in January 1979 in Chandigarh, Gulkirat Kaur Panag is the daughter of Lt. Gen. (retd) H.S. Panag, who joined the AAP as a strategist over a month ago. She runs an NGO – the Colonel Shamsher Singh Foundation – that works towards promoting citizen-government partnership on gender equality, addiction awareness, education, employment and disaster management. The foundation also runs a volunteering portal.
After the BJP named Kher its Chandigarh candidate, both Bollywood personalities exchanged cordial greetings through the social media. Just hours later, both aimed satirical barbs at each other.
"Doubt if I'll have the energy to run around like this and serve my people when I'm 60. I guess that's why there's normally a retirement age," Panang tweeted, alluding to Kher.
Kher hit back, saying: "My father is 101-years-old and still happening. He said 'Good Luck Puttar (Good luck my child). You have always been winner'. For me Life starts at 60."
Kher, who vouches to be the "daughter of Chandigarh", having been born and brought up here, studied here and even represented the Panjab University at badminton nationals, claimed that those opposing her within the BJP will be pacified.
"I am here to stay, to work for you & to deliver. Only time will tell. Give me your love & I will get you your rights," Kher, 58, tweeted.
Amidst all this, sitting MP from Chandigarh Pawan Kumar Bansal, who is facing three women opponents – the third is Jannat Jahan of the Bahujan Samaj Party – told IANS: "It is only after hard work of several years that one reaches a certain level (in public life or any other sphere). Celebrities from the film world have to toil hard to master their art and reach that level."
Bansal, who had to resign as the union railway minister after his nephew was named in a recruitment scam, has been elected from Chandigarh four times – in 1991, 1999, 2004 and 2009. Right now, the odds seem in his favour, but then, as someone once said: Twenty-four hours is a long time in politics.