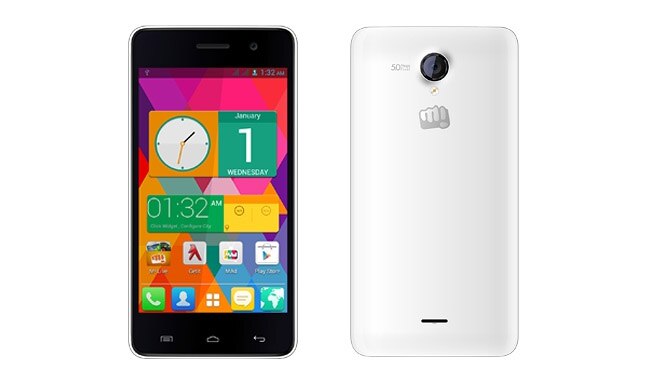 First things first, priced at Rs 6,999 or about $ 120 for the entry-level handset which comes packed with the latest Android 4.4.2. Micromax is now the first Indian smartphone manufacturer to have a device that sports Android KitKat 4.4.2 out of the box. It is available in four colours – Gray, White, Red and Turquoise.
The handset does have its fair share of shortfalls mainly due to limitations due to the reasonable pricing like the a 1.3 GHz quad-core CPU with just 1 GB RAM and 4 GB in-built memory.
It does have a microSD card slot extendable up to 32 GB and has a 4.7 inch IPS WVGA display which will give good colour reproduction for a handset in this price range and a 5 MP camera. The device comes with a 2,000mAh battery which should be good enough and Dual-SIM for connectivity.
With specs like these and the same price tag as the Moto E, Micromax goes head to head with Motorola trying to boost their own sales after Motorola has taken the mid-range market by storm with the success of the Moto G and the moderate success of the Moto X.
Micromax has its work cut out if they want to remain in the positive side of the figures in their next quarterly report which means good news for the customers as a manufacturer war is only going to give the buyers more for their money.