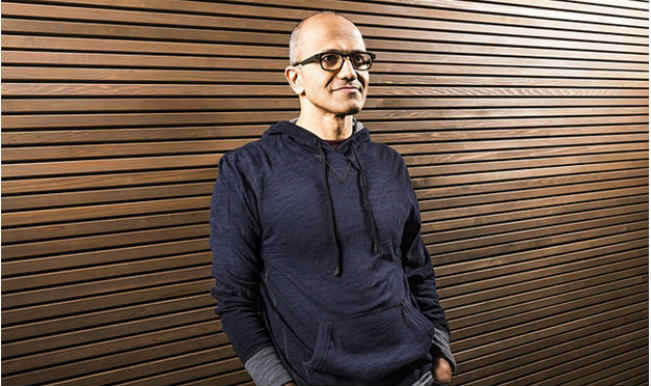 Microsoft Chief Executive Officer Satya Nadella is a busy man. After a move by the company that propelled him to media fame, he speaks in various interviews of the company's need for innovation in a world centred around cellular communication, and giving consumers what they want.
Grateful as well as humbled by the support from his country of descent after his elevation, he said that he had received praise for the same from known and unknown people alike. He was proud of his heritage and the strong childhood experience he received in India. He also felt that the country helped him see the diversity of people, cultures, and viewpoints across the world, and make him want to know where anyone related to him or what he does comes from. Besides all this, he insists that he will always be 'a Hyderabadi'.
According to the CEO, India forms a major part of Microsoft's future plans, since it is one of the few countries in which the company has the entire range of its operations. He added that cloud services would be the main propelling factor in the company's future, and would enable entrepreneurial growth.
For a company that based itself on productivity, Microsoft has always been user-focused, Nadella says. With the advent of new technology, the company has been reinventing this key term to empower their consumers. Using cloud services and acknowledging mobile domination, they were keen on providing the consumer with a technology as the latter would desire.
This did not mean that software would no more be the focus of their operations. According to Nadella, the world was essentially powered by software, which connects people. Aside of enabling people to interact in better and more ways, it also allows for businesses to engage consumers, he said.
Nadella emphatically states that it was key to pay attention to a variety of viewpoints in order to reach his goal of being a good listener and a decisive leader.
It was equally important to take the viewpoints as inputs to making good decisions and ensure that the company improves its innovation power. He wishes to create a culture in his company where every employee felt empowered to work to the best of their ability.
Though Nadella gains information from Microsoft's senior teams and employees, he says that the focus should be high-value experiences through their devices and services.
The new CEO talks about his relationship with Bill Gates, with whom he worked closely for many years until his elevation. After he became CEO, he turned to Gates for support. Gates readily agreed to help Nadella and his team with his insights and strategic way of thinking, and focus on future products and technologies to be pursued. Nadella said that having Gates as a technology adviser is a huge plus for challenges ahead.
All in all, the future of Satya Nadella in Microsoft looks promising, indeed.