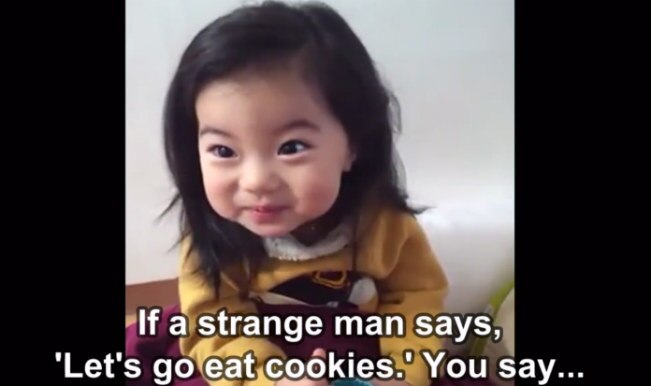 If this cute kid doesn't melt your heart, you definitely have some problem. The video will make you go 'awww' every time you hit the play button. The kid looks completely adorable and talks so cutely that you will be forced to hit the replay button.
The video is about a mom trying to teach her daughter Ye Bin, how to say 'No' to strangers. She is trying to teach this adorable kid that if any strange man asks her to come with him, she should say no. At first, she says 'yes' to everything but then as her mom tells her, she quickly grasps and says 'No'. Her 57 second journey from saying 'Yes' to saying 'No' is so adorable that you will fall in love with Ye Bin! It's not at all shocking that this dove-eyed cutie is getting more than 5 million hits on YouTube.
As soon as the video was uploaded by DramaFever on Youtube, the comments section went berserk and suddenly Ye Bin was a complete social media hit! So, if you love kids, this video is a must watch for you and if you don't, this video might change things for you.
Go ahead and watch this super adorable video.
Warning: This video is so cute that you might die of cuteness.