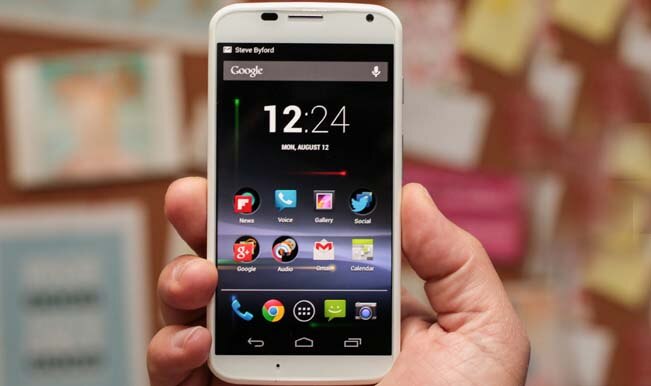 Motorola is reeling in the success with the Moto G and will launch its flagship smartphone, Moto X tomorrow. Priced at Rs 23,999, the phone will be just within range of a lot of middle class customers who like to set their budget at an even 20 grand.
Like the Moto G, FlipKart has the sole rights of selling Moto X in India and if past records are to be consulted and you are really interested in buying the Moto X then close all the movie downloads and close all other tabs so that you have maximum bandwidth to get your order into the line as soon as possible before the much dreaded Out of Stock notification comes up.
The 16 GB version of Moto X will be available for purchase from 19th March 2014 during the day unlike the Moto G which was available from midnight o the date of launch. (Moto X vs Moto G, which one should you buy?)
For the colourful at heart, there is bad news because if you opt for a colored panel anything except for Black and White, you will get your smartphone only by mid-April.
Just to refresh your memory about why you should buy a Moto X, here are the specifications. Moto X sports a 4.7 inch HD screen, it is powered by a dual-core 1.7 GHz Krait processor a beefy 10 MP camera and 2 GB RAM.
Motorola reels in the customers on the promise of software upgrades and Moto X also comes with Android 4.2.2 aka Jelly Bean with assured upgrade to Android 4.4 aka KitKat.
The device comes with the usual refinements like a decent battery (2,200 mAh), Wi-Fi, Bluetooth, Corning Gorilla Glass, Nano-SIM slot and LTE support among many other features.
So, hold on to your seat, have a good night's sleep and get up bright and early with your finger's ready and card details memorized to get ahead of the others and order your Moto X.