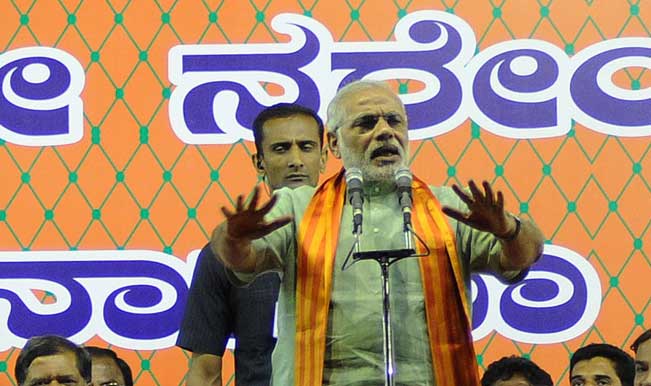 Narendra Modi today in Jammu at an election rally, for the first time directly attacked Arvind Kejriwal of the Aam Aadmi Party, referring to him as AK 49. He went further to insinuate that Mr Kejriwal was an ISI agent and/or a friend of Pakistan.
He then further targeted the Aam Aadmi Party added, "The third is AK-49. This man has just given birth to a party. On the party's official website, the map has given off Kashmir to Pakistan," something that isn't quite true, as no such map is to be found on the website.
For a prime ministerial candidate of the BJP this was clearly a rather low blow. Rather than debate issues that Mr Kejriwal has brought out, especially on gas prices, the Adani-Ambani connect, alleged growth figures in Gujarat etc Modi instead chose to make insinuations and target Kejriwal with such falsehoods.
Similarly Modi then went on to target the Congress and National Conference party by saying we need to get rid of Dynastic rule in the country, a direct reference to the Nehru-Gandhi and Abdullah family. But Modi, it seems forgets the numerous dynasts in his own party. Right from Rajnath Singh's son to the late Pramod Mahajan's daughter and over a dozen other leaders who have fielded their children.
Quite clearly then, Omar Abdullah is right when he tweeted ""NaMo certainly plays fast and loose with the truth.."
Did Modi ji call me an agent of Pakistan and AK 49? Kya PM ke daawedar ko ye bhasha use karna shobha deta hai? …..

— Arvind Kejriwal (@ArvindKejriwal) March 26, 2014