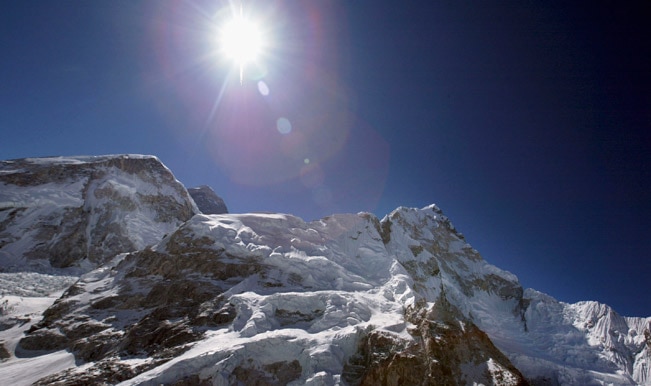 Kathmandu, Feb 13 : In a bid to encourage individual mountaineering and attract more climbers to scale Mt Everest and other peaks, the Nepal government has reduced the royalty fees climbers need to pay.
According to the revised rate published Wednesday in the Nepal Gazette, a government publication, any aspiring foreigner would be required to pay $11,000 as royalty during the spring season from the normal route or the Southeast Ridge. Earlier, the fee was $25,000 per person. Likewise, $10,000 has been fixed as fee for a climber to access Mt Everest from any other route.
The royalty fee for climbers from the Southeast Ridge route during autumn has been revised to $5,500 from $12,500, while for summer/winter it has been revised to $2,750 per person from $6,250.
The new royalty fee for foreigners will come into effect from Jan 1, 2015.
"Many foreigners team up for ascending Everest, so we were losing on royalty. To encourage individuals to climb Mt Everest, we have slashed the fee so that Everest can be saved from increasing traffic during the peak season and its sanity and purity can be preserved," Mohan Krishna Sapkota, spokesperson of Nepal's ministry of tourism and civil avation, told IANS.
The step also takes into consideration the complaints from foreign mountaineers that climbing cost was too high in Nepal.
Earlier, a seven-member team had to pay $70,000 and and an additional $10,000 was charged per person.
A Mt Everest expedition team that has a maximum of 15 members currently costs $10,000 per person. For Nepali climbers, the royalty fee has been set at Nepali Rs.75,000 per person during the spring season and Nepali Rs.37,500 and Nepali Rs.18,250 during autumn and winter/summer, respectively. The latest fee structure for Nepali climbers will come into effect from Feb 13, 2014.
"We hope that once this provision will come into effect, chances of merging teams will decrease as this has significant impact on accidents and rush while ascending and descending from Everest," said Sapkota.
Once this regulation comes into effect, according to the rule, it will be mandatory for every climber to be accompanied by a high altitude officer.
"To reduce the expenditure, earlier, one or two high altitude officers accompanied each team which was in violation of rules and also makes it difficult for rescue operations in case of accidents. Since the new rule is in place, such anomalies will not be repeated," the spokesman said.
In view of hundreds of aspiring climbers heading for the final ascent to the top of Everest every year with weak rules and regulations in place, the Nepal government and the private sector have since last year fixed two ropes for ascending and descending purposes from Hillary Step to the top of Mt Everest.
Hilary Step is considered as the last real challenge before reaching the top of the mountain via the Southeast Ridge route.
The ministry of tourism, which brought these changes in royalties fees, also introduced separate mountaineering royalty fee for Nepali climbers in a bid to get rid of crowds seeking government financial assistance and royalty waiver to climb Mt Everest.
Government officials said the royalty fee was very high for Nepalis and it used to take at least a two-month process to get royalty waiver from the government. As a result, many of them were forced to climb mountains as guides of expedition teams. Fixing the minimum royalty amount for Nepalis will end such practices, the officials said.
The royalty fee for foreigners aspiring for peaks of 8,000 metres or more (except Everest) has been revised to $1,800 per person from $5,000 during spring. It will cost $900 and $450 per person during the autumn and winter/summer, respectively. IANS