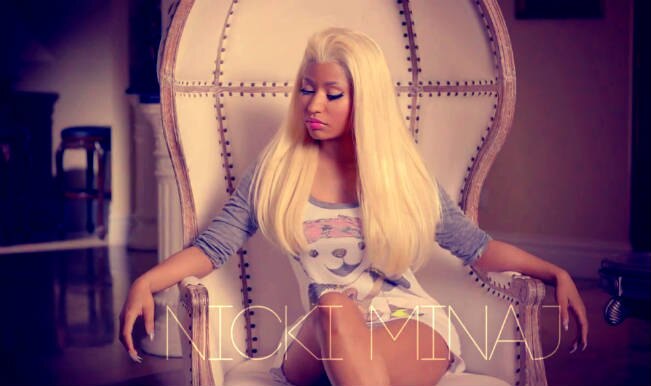 The new queen of rap is now back with a catchy new song. Nicki Minaj will make everybody sing along to her latest track, 'Yasss Bish' featuring long-lost artiste Soulja Boy.
She posted the new track to her Soundcloud account, and then tweeted the link to it. This collaboration comes after new songs like 'Looking Ass N*gga' and 'Chi-Raq' – and the track is both menacing as well as groovy at the same time.
With a duration of four minutes, 'Yasss Bish' is the hook of the song, and is repeated over and over. Listeners will love the chilled out rhythm, and fans of the star will look forward to her no-nonsense lyrics about being the diva-est diva there is.  Besides that, she makes a bid for a basketball team, and talks about a celebrity couple and how she admires them. Who, you ask? Well, listen to the song to find out!
So what's cool about this song? Well, she has really changed up her style, from pure speedy delivery of lyrics to a more eloquent yet rhythmic way of rapping. She even sings few parts, but keeps the beat throughout.
Also, Nicki has seemed to turn a new leaf when it comes to her persona and look. Gone are the days when she wore candyfloss in her hair, and every possible colour imaginable in her outfit. She has also replaced her crazy, doll-like, over-the-top makeup for a more natural look. And a more natural vibe, that comes along with it.
Talking about Soulja Boy, he's never usually in the scene until someone asks him to collaborate. And this song, with the infectious hook, may be just what he needed to revive his career. Nicki also posted a video on Instagram of him saying "Yasss bish, yasss!"
The artwork for the single is interesting – the woman on the cover is the negative character in the hit show, 'Orange is the New Black', Tiffany Doggett.
But little miss Nicki has plans. Half way through the song, she says that a single from her upcoming album, 'The Pink Print' is two weeks away. She also added, "The Pink Print album a movie" hinting at the kind of album it will probably be. Will it be a visual album, or one that is more reliant on concepts? Only time will tell, and the album is due for release later this year.
Till then, enjoy this treat from Nicki as she disses all the other 'bishes'.
Listen to it here: