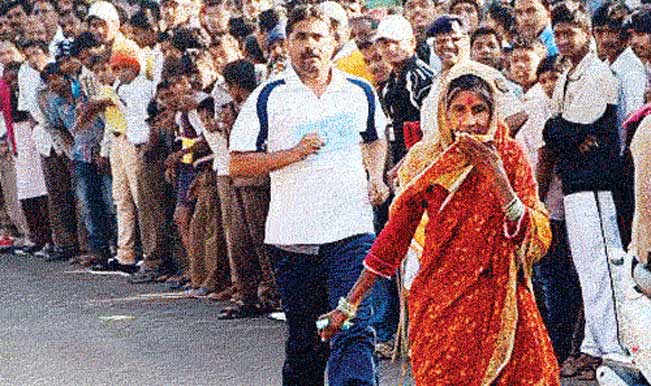 News of a 61-year-old farm labourer who won this year's Fastest Marathon Runner (Baramathi Marathon in Maharashtra) barefoot and clad in a nauvari sari has shocked the world. Lata Bhagwan Kare who loves walking for about more than a kilometer a day beat all the experienced marathoners in the fray to finish on top.
Dumbfounding everyone who were present at the event, the proud winner said that she loves her daily morning walks and was playing down the feat. Many trained athletes were made to look like fools who saw a woman thrice their age bag the most coveted prize.
Everyone tried to figure out how the lady beat everyone that too in her maiden marathon . There was only one answer. The sari. And it was Nike who cracked the code.
American sporting giants Nike saw this as an opportunity. The sporting company who has continued to excel in all departments such as footwear, clothing and sports items till now has decided to launch a new line for its athletes. A representative of the Nike team said that they were looking for a new challenge for a long while and had to grab this exact moment.
Nike will now launch a sari line to change the game in sports. They said that runners can find more use in the sport sari than the usual shorts and jerseys. The 'low-light' sport saris will be made available in several colours including – fluorescent pink, fluorescent green and fluorescent orange and will utilize pulsing electro-luminescent panels on the front and back for enhanced visibility.
The sport saris will be windproof and water resistant and will be made of 'Clima-Fit' fabric to help keep dry and comfortable in light weather conditions. The upcoming sportswear will also contain mesh zip pockets for greater comfort when hands are in the pocket and to maintain their breathability.
The same representative from Nike said that it will be available for both men and women. It will be quite a challenge getting men to wear the traditional Indian clothing but he had just one thing to say, "Let's change the game."
(Disclaimer: This is a work of fiction. We have no information if the company is coming out with a product mentioned in the story.)