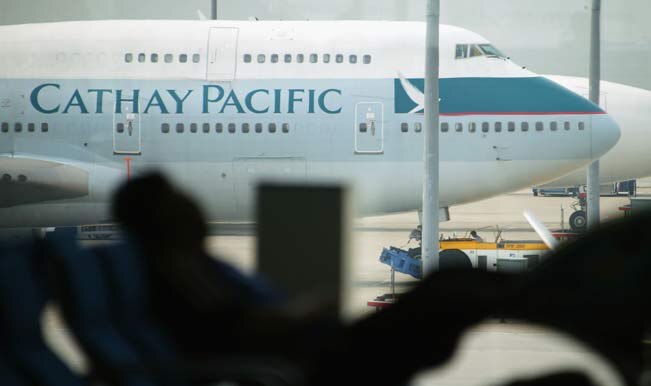 (Back in Bangalore after his recent visit to United States, Vincent Sunder, Founder of Alabos, is still coming to terms with what he experienced on board the Cathay Pacific flight from San Francisco to Hong Kong. Like the 321 passengers on the flight, Sunder too was waiting for the long flight to land in Hong Kong. But the experience has left him shaken to the core and something that is 'yet to sink in'. Below is his account of the incident).
"It was a long 14-hour flight and we had completed eight hours and the first meal had been served. The crew began serving the second meal and I was looking forward to some sleep after the meal. Suddenly there was a massive turbulence. Not something I had experienced before and unlike the normal turbulence.  The food trays which the crew had started distributing to the passengers were flying all around. No seat belt requirements had been announced, but as a matter of routine I had my belt secured. But some passengers had removed their seat belts and as a they hit the overhead cabin baggage and ceiling. There were successive strong jolts. People in the rows ahead of me were thrown around, a few hitting the ceiling. Two baggage holds opened and the suitcases in them flew out.
There was complete chaos, people and kids were screaming.
The turbulence stopped for a second. But then it began again. The crew had just finished serving the meal. The flying food trays only added to the chaos. The thought of an air turbulence never crossed the mind during the incident, since it was way too violent in nature, and as one who had travelled for two decades and regularly as well, I had my fair share of bad turbulences which were nothing like what one was experiencing. Fortunately I was awake and once the plane hit turbulence I just held on to the seat in front of me. Since I had opted for last seat I could see it all. In the normal course there is a warning in advance if the plane hits air pockets/turbulence. But in this case I guess everyone was taken by surprise.
There was complete silence after it ended and people were crying in pain. The 3-minute turbulence left walkway littered with food trays, cups and food. After about 10 minutes pilots announced that it was unexpected turbulence. The cabin was a complete mess with food trays and bags. The staff did a magnificent job given the circumstances, and they must have gone through severe trauma themselves.
There were a few food trays being taken around later, few cups of water before everything was exhausted. We spent the next six hours without food and water. I did venture a while later into the service cabin to see if any snack was available, and saw nothing around but some stewards applying pain balm on their legs and back.
It is something surreal. It is still sinking in."
The 747-400, which departed from San Francisco, was carrying 321 passengers and a crew of 21. It encountered the turbulence near Hokkaido around noon Hong Kong time. Cathay Pacific said nine people were injured. The airline said two crew members and six passengers were taken to hospital after the jet landed in Hong Kong. Another passenger who sustained an injury didn't require hospitalization.
(Vincent Sunder writes for CricketCountry)