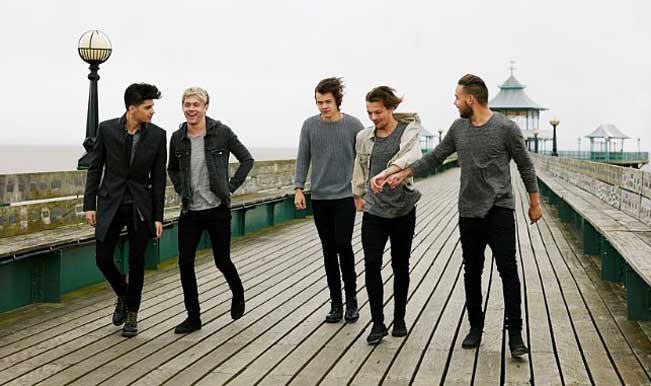 One Direction is finally giving fans – and others – something to scream about. They have officially released their newest music video, for the song 'You & I'.
They had long promised that the video would be "something different", and they sure kept their word! Though it is a serious, more mature video, it is equally romantic. The video comes after a lot of teasers that the band released, that had fans eagerly anticipating the release.
The boys presented the full music video directed by longtime collaborator with the band, Ben Winston; and shot along the Clevedon Pier outside Somerset in England, despite the chilly winds. Unlike earlier assumed, the video is not in black and white.
So what exactly is the video all about? Well, the boys, a single grey sweater, and special effects. Nothing else, nothing more. This is quite different when compared to their other videos.
So there's one costume to begin with, that each boy wears – a grey cable-knit sweater and black pants.
This constant morphing of one person into another made it look like each of them was walking along the pier in one continuous shot. Eventually, all five meet up, and they are now wearing different outfits. They take turns to morph into their future actions, for example, jump into a picture of themselves rolling on the ground and then actually rolling, before getting back up.
So what did the members of the popular boyband have to say about 'You & I'? Well, all of them described the song as serious when compared to their work. According to Liam, this was one of the band's best songs, and more 'grown-up' for what they have done so far. Niall, on the other hand, said that they were doing something different with the song. Zayn has said that the song was a romantic ballad for "all those candle-lit dinners. And Harry simply told his fans, "You & I' is a love song. It's saying you're inseparable and nothing can get in the way of you and your love."
The reason that the music video release was met with so much excitement was because One Direction had been teasing the public, literally, with teasers. Whether it is the audio for the song, or clips on Instagram, or even a remix of the song by Liam, they got the crowd waiting. 'You & I' has been described as "stunningly emotive" and "a mature, haunting anthem."
'You & I' is the third track to be officially released from their newest album, Midnight Memories.
Watch the music video here.