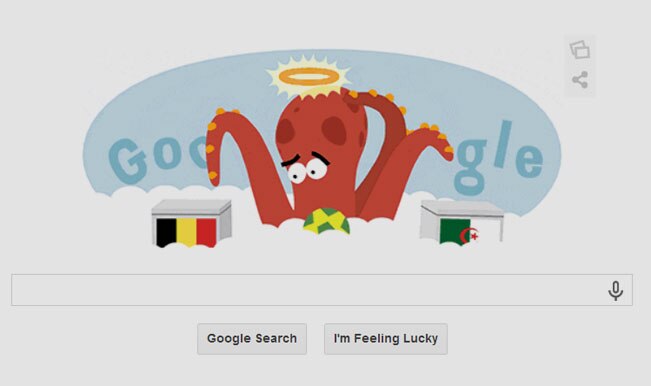 Paul the Octopus is back to predict the winner in the FIFA World Cup 2014! Well, do not look surprised but be thankful to the search engine's brilliant creativity with their latest doodle. Google that is on a doodle making spree has brought back the beloved Octopus Paul, an animal oracle famous for his accurate predictions during the 2010 Football World Cup.
And this time Octopus Paul is seen confused choosing winner between Belgium and Algeria. The 'Halo' wearing Octopus Paul is sitting on the clouds, depicting he is no more with us but is going to predict from heaven. The Octopus with psychic divine is continuously looking at two boxes bearing the Belgium and Algeria flags respectively as another tentacle are cutely placed on his head as if he is lost in his thoughts!
Paul, the 'Psychic' Octopus began his career as an animal oracle during the UEFA Euro 2008. But he gained super stardom during the 2010 FIFA World Cup with his predictions for the German team. The highly intelligent invertebrates also bore the brunt of German fans when he predicted in favour of Spain during Germany's semi-finals match at World Cup 2010. He was offered security cover by the Spanish prime minister José Zapatero and Industry Minister Miguel Sebastian. He attained cult status during the event and looks like he is back to choose his winner this time around as well.
As for the Google doodle it is great way of innovation as the user lands on match details page between Belgium and Algeria. The first match on 17th June, 2014 kicks off at 9.30 p.m. at Estadio Mineirao, Belo Horizonte.