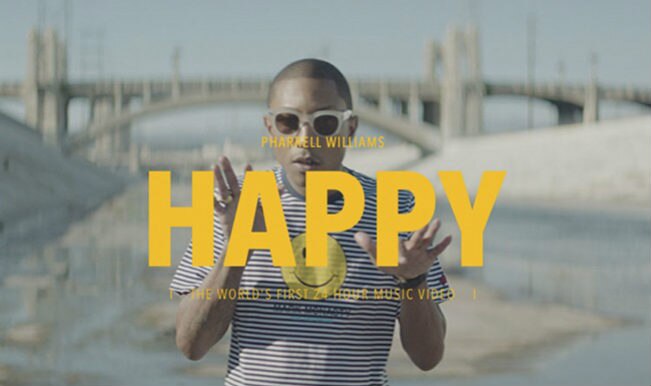 The United Nations has established a day in the year, dedicated to happiness – and spreading it across the globe. Though March 20th was crowned the International Day of Happiness, this happened two years ago! So why talk about it now?
At that time, many of the people in the UN were not familiar with the talented Pharrell Williams. His song 'Happy' has cause a sweeping wave of positive emotion since its release. Though nobody can accurately pinpoint what makes this song in particular so infectious, be it the catchy melody, or the lyrics that exhort the listener to "clap along" if they "feel like happiness is the truth"; the joy of watching Williams and others dance to the song has made it a sensation.
The song 'Happy' has thus managed to capture the feeling of warmth that comes with the emotion, in its essence. This made the song grow from a mere single on the movie 'Despicable Me 2' to immense popularity.
When something this positive becomes famous, it spreads good feelings and makes people happy. Even with its slow build-up, the song had eager listeners who loved the jolt of positivity it exuded. When it released, it topped music charts in more than a dozen countries. The song was a fine example of how the best art is crafted using a range of emotional perspectives.
It is no wonder then, that this talented artist has made a collaborative effort with the U.N. Foundation to promote 24HoursOfHappiness.com. Yes, this is a site dedicated to videos of people all across the world, clapping their hands to the tune. The reason this song was chosen for the initiative was because it had an uplifting message in its lyrics.
The site was created with the aim to raise donations for the U.N.'s Central Emergency Response Fund. However, the part that separated this initiative from other donation projects was the task assigned by Williams to people.
On the occasion of the International Day of Happiness, he asked his fans to do something in addition to donating to the Fund. He asked those who loved the song to submit videos of themselves dancing to it, through Youtube or Instagram. They would also have to use the hashtag #HAPPYDAY to tag their submissions. Certain submissions would be hand-picked by the hit-maker and would be made as cuts into a video for each city. This resultant video would be spotlighted on the site at 12 noon in each time zone around the world.
The song, also one of the lead singles on Williams' new album "G.I.R.L.," has already shot up to No. 1 in almost 80 countries across the world.
The singer is overwhelmed and humbled by all the goodwill, and said that the song as well as the reaction he received to it, made the experience bigger than anything he had ever done in his career.