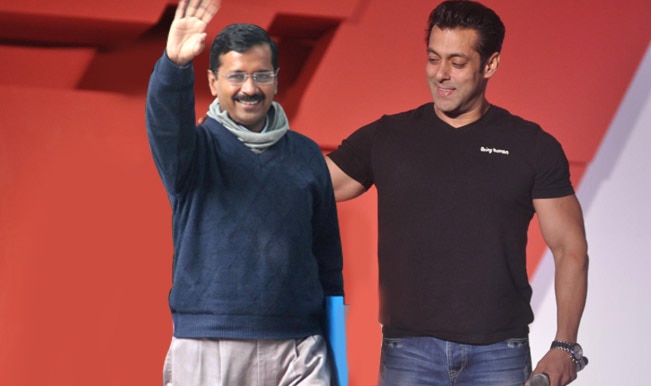 Ever since the first promo of Salman Khan's Jai Ho was released there were speculations that the movie was based on Delhi chief minister Arvind Kejriwal and his Aam Aadmi Party (AAP). Was it a sheer coincidence that Kejriwal arrived on the national political scene with a bang as Jai Ho promo became the talk of the town? The first song 'Baaki sab first class hai' left little to imagination. Salman Khan raised all the issues that Kejriwal has been raising for the past one year.
We can now tell you that the rumours are indeed true. Though Salman Khan has never openly come out with his political views, it comes as no surprise that his latest release is actually inspired by AAP. The film is about a common man who takes on the system – just like Kejriwal who dethroned the Sheila Dixit-led Congress government in Delhi.
Khan and Kejriwal even had discussion on the script of the film. While Kejriwal did not approve of the songs in the film, Khan persuaded him as the movie was supposed to be a mainstream entertainer.
While we cannot tell you the entire plot as that would disappoint Bhai's fans, we can definitely share that the twist in the tale will leave you gasping. Keep watching this space for more about the plot.
(Disclaimer: This is a satire piece and we really don't know if AAP inspired Salman Khan)
Image: Kadar Shaikh