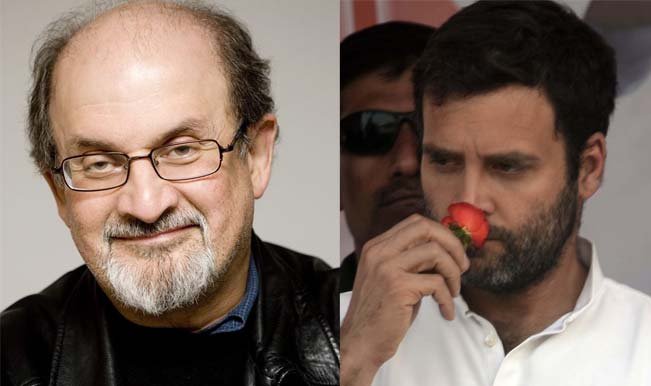 Today is Pappu's aka Congress leader Rahul Gandhi's janamdhin and he shares his birthday with the renowned writer Salman Rushdie. While both the novelist and the politician were born on the same day, we wonder what would be the result if the later was a character in the former's book.
For example what if Rahul Gandhi was born at the exact moment India got Independence from the British, just like the children in the book, Midnight's Children? Although the character is out of shape for Rushdie's book, the novelist's unique style of storytelling would have paved a better way for Gandhi. Perhaps, just perhaps he would have given better answers in his TV interviews and them more informative instead of funny.
Also Gandhi would have come out of his wonderland of animals, out of which he keeps quoting some of them usually in his quotes. For example, lately before the elections while taking a dig at Narendra Modi, he said, "People call us an elephant. We are not an elephant..we are a beehive.. It's funny, but think about it. Which is more powerful? an elephant or a beehive?"
Also his fan following on Twitter and Facebook would have been a larger number who would be actually interested in what the leader says and not the ones who want to know what the leader's next blunder would be.
He would have surely framed the below mentioned quotes of his in a better way and would have expressed them in the right way:
"Politics is everywhere.. it is in your shirt.. in your pants.. everywhere" (He said this while trying to motivate youth to participate in politics. By the way he is the Chairperson of the Indian Youth Congress and the National Students Union of India.)
"It (Congress) is a funny party. It is the largest political organization in the world but perhaps does not have a single rule or regulation. We create new rules every two minutes and then dump them. Nobody knows the rules in the party" (He said this after being elevated to the Congress Vice-President's post)
Dalit community needs the escape velocity of Jupiter to achieve success…" (He said this while trying to reach out to the Dalit community)
"If India is a computer, Congress is its default program." (He said this while addressing NSUI cadres in Delhi)
If I am incompetent, I am useless, the people of India will see that.(He said this while campaigning for the Lok Sabha Elections 2014)
Well, Rahul Gandhi had a rather tough year. From the interview with Arnab Goswami to taking responsibility for Congress defeat in the Lok Sabha election, he had a lot of responsibilities on his shoulder. However, we hope this birthday will bring peace in his life as there is not much of tasks to handle now. Except may be make us smile with his statement.