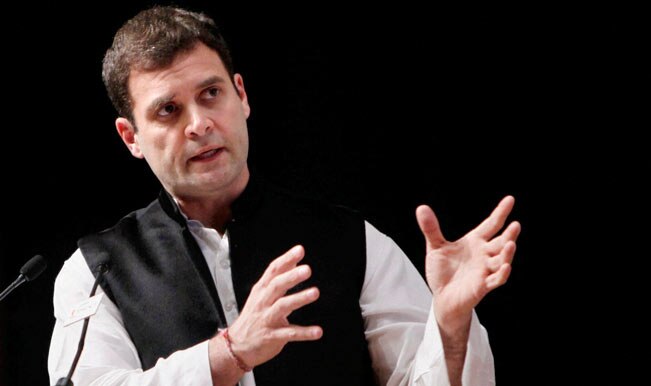 For the first time, the Congress Vice President Rahul Gandhi talked about the BJP Prime Ministerial candidate using his name. It seems that the Congress broke their trend of not referring their opposition's name and has started off their new campaign raising many eyebrows.
On one of the rare occasions, Rahul Gandhi named Narendra Modi in a public affair. When asked how big a challenge Congress sees current Gujarat Chief Minister as, Gandhi said, "Modi is surely an individual but he represents an ideology — an ideology that is exclusionary, that turns people against each other. It is an ideology that is to harm India."
Usually, Gandhi refers to Narendra Modi using terms like the "BJP leadership" or other descriptions. However his words did not go unnoticed among the audience. A senior Congress leader who knows Rahul Gandhi closely said that it was one of the rare occasions when he has used the opposition leader's name. One of the first occasions was during the manifesto-release outside Gujarat. He said, "He has been saying 'Modi ji' in election campaigns in Gujarat but this seems a first of sorts."
While there had been discussions about the leader avoiding the name of the Gujarat CM, there were plenty of reasons that were contributed by members of the party. While some say it was one among the ideas of that the Congress Vice President usually avoids on public platforms.
Even in the past when Gandhi was asked questions about considering Modi as a threat to Congress, he used different terminologies like "leader" or "opposition leader" and never named the leader. When last week in the Google Hangout a leader asked what Congress could do if Modi came to power, even then he avoided his name by saying "the opposition leader"
Other instances include when Modi called him a "Shehzada" but Rahul Gandhi never uttered his name. While witnesses say that it was to avoid a Rahul-Modi clash that the Congress Vice President kept avoiding using his name.
However only once did he name him and again moved back to talking about the BJP Party. With the new move from the part of Congress it seems that the BJP and Narendra Modi can no longer be ignored or turned a deaf ear. Considering the ripples it has created, may be the citizens can expect more of usages of names among the party and its leaders.