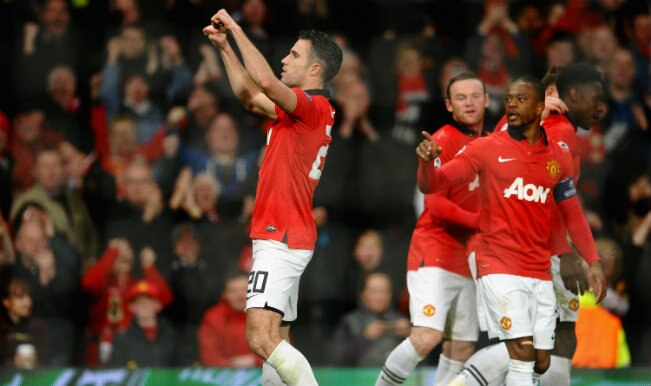 Manchester United booked their place in the Champions League quarter-finals with a determined 3-0 win over Olympiakos at Old Trafford. United's star striker Robin van Persie's spirited hat-trick saved David Moyes from an early exit from Europe. (Checkout the action in pics)
Olympiakos were leading 2-0 from the first-leg meet in Athens but could not stamp any authority at Old Trafford thanks to brilliant performances from Ryan Giggs, Wayne Rooney and David De Gea. It seemed like a night that Manchester United would leave to rue as Wayne Rooney's header from a sublime Giggs cross hit the post and was then saved.
Van Persie opened the scoring through a penalty on 25 minutes before slotting home an easy finish from a low cross into the box from Wayne Rooney just before the first half was decided.
The Dutchman finished off his hat-trick with a strategically planned free-kick which left Olympiakos keeper Roberto stunned out of position six minutes into the second half. Van Persie was then forced to be replaced by Marouane Fellaini due to an injury towards the last few minutes of the match.
Olympiakos tried hard to find the goal that would send them through but were denied by De Gea's heroic saves. Ryan Giggs was brilliant on the night along with Wayne Rooney who never stopped running to help secure an aggregate 3-2 win over Olympiakos.