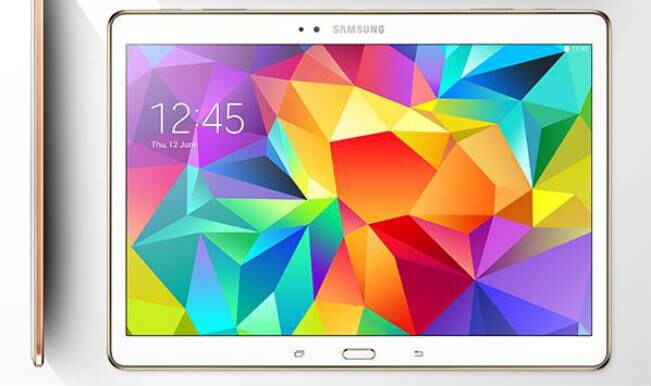 With increase in the competition of mid-priced tablets in the country, Samsung has gone high over-the-way. Samsung, today, launched two high-priced tablets in India. The tech-giant took the curtains off from the Galaxy S series. S 10.5 and S 8.4 were launched at the price of Rs. 44, 800 and Rs.37, 800 respectively.
"We are excited to unveil the new Galaxy Tab S offering. It is thin, light and comes equipped with Super AMOLED touch-screen. The launch of Galaxy Tab S will further propel us in growing category of tablets and facilitate ground-breaking success," Samsung India VP, Mobile & IT, Asim Warsi told the reporters.
Specifications:
Galaxy Tab S 10.5 and 8.4 sports a super-AMOLED display of 2500×1600 pixels. Both the devices will have 8 Megapixels rear camera and 2.1 Megapixels front camera, to be gleamed with LED flash. To boost the speed, both the devices are built with Exynos 5 octa core processor. The octa-core break downs to 1.9 GHz quad core + 1.3 GHz quad core processor. To add a cherry on the cake, these devices are supported with 3 GB RAM.
The internal storage memory of both devices is 16 GB, which can be expanded till 128 GB.
With such enormous features, a device needs a strong battery back-up. Galaxy Tab S 10.5 comes with 7,900mAh battery, whereas S 8.4 is assisted with 4900mAh battery. You will find the devices in two glossy colors- Titanium Bronze and Dazzling White. Samsung have claimed that these are the thinnest and lightest tablets in the history of technology.
Before the launch of the S series, there were oodles of hoopla build by Samsung claiming this to be the answer to Apple's I Pad. The upcoming time will show whether this will affect Apple in any kind or not.