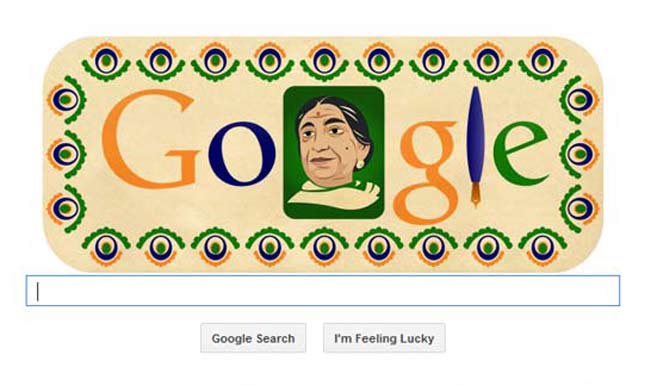 Search engine giant Google has come out with a doodle celebrating the 135th birth anniversary of India's iconic figure Sarojini Naidu. Called The Nightingale of India, Naidu was born on February 13, 1879. She not only took part in India's Independence movement but was also a noted poet. She headed the Indian National Congress, was Governor of an Indian state and was one of the members of the committee which formulated the Constitution of India.
The new Google doodle shows Sarojini Naidu's sketch and also includes a pen to highlight that she was a writer. Minute facial details like the wrinkles on her forehead and the bindi have been beautifully captured. The fountain pen symbolises her contribution to the literary world and her incredible poems. Naidu worked for uplifting the status of women in the country. The colourful representation of the doodle in the three colours with a peacock feather border is a visual treat.
Some of Naidu's famous works are The Golden Threshold, The Bird of Time: Songs of Life, Death & the Spring, The Broken Wing: Songs of Love, Death and the Spring (including The Gift of India) and Muhammad Jinnah: An Ambassador of Unity, among others. 
The '135th Birthday of Sarojini Naidu' doodle follows the recent doodle on Republic Day. The recognition by the most used search engine is a commendable feat.