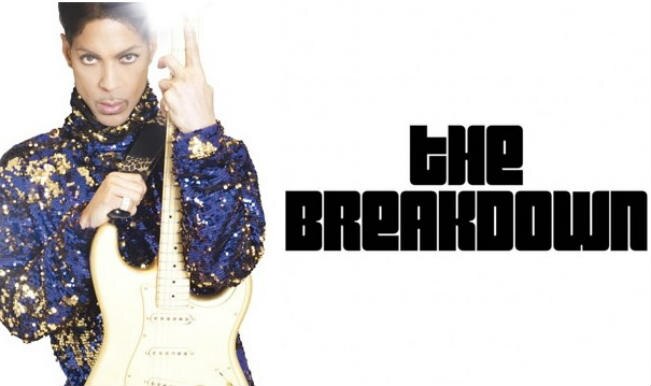 After a famous dispute, Prince is back with a surprise for all those who adore his music, and him!
Yes, the surprise was a brand new song, that he shared with no prior indication. The power ballad is called 'The Breakdown' and is a catchy yet slow jam. It opens with a confession that says "…this could be the saddest story ever been told" and eventually progresses to laser sounds in the chorus. The bass and the electronic aspects of the chorus are really highlighted here. But what completely ties the song together and makes it a classic Prince jam are the vocals. From the mellow falsetto to the build-up which leads to layered harmonies and an eventual "holler" towards the end, the work done in the vocal department is worth mentioning.
Though Prince had earlier revealed on a talk show that he was planning to release 'The Breakdown', he did not say when that would happen.
The move comes after eighteen years of protest against Warner Bros. and the contract they had. Prince had sued his fans, video site Youtube, and even written the word 'slave' on his face. In defence of that, he said that though people thought he was crazy for writing that, he was determined to show the world that he could do what he wanted. He also added that a man becomes a slave when he is stopped from 'dreaming', and that was what he was subjected to. After the protest, in a more extreme action, he even changed his name to a symbol.
But now, it looks like he has made peace with Warner Bros. Records., and even issued a statement that included the words, "…both Warner Bros Records and Eye [sic] are quite pleased with the results of negotiations and look forward to a fruitful working relationship."
The two parties have made a deal which gives the singer full control of his back catalog as well as ownership of his master recordings made in the past. But it also gives the company the rights to digitally re-master and reissue Prince's albums from 1978 to the 90s. This includes the 30th anniversary release of Prince's 1984 soundtrack to the film Purple Rain. The record label will also release a selection of previously unheard material by him.
And what about Prince's latest album? It is titled PlectrumElectrum, and has been recorded together with the band 3rdEyeGirl. The album is all set to be released in late 2014. But in addition to this, the singer has promised a brand new studio album as well. He did not say when it would be released, but music lovers all over the world cannot wait!