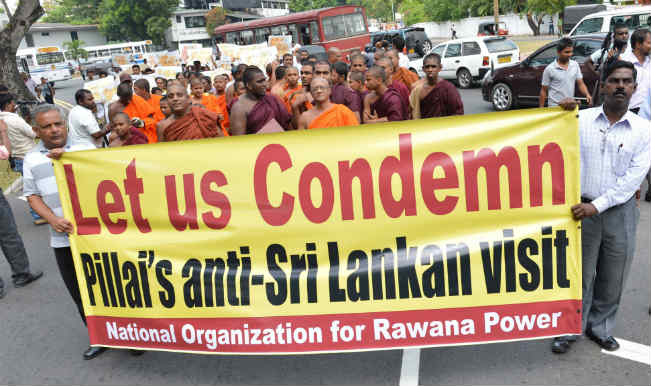 Colombo, Feb 25 (IANS) Sri Lanka's government has rejected a call by UN High Commissioner for Human Rights Navanetham Pillay to establish an international inquiry to investigate alleged war crimes as the country prepares to face a fresh resolution in Geneva next week, a statement said Tuesday.
In response to a report compiled by Pillay after a visit to Sri Lanka in 2013 on alleged violations of international humanitarian laws including killing of civilians during the last phase of a three-decade conflict in 2009, the Sri Lankan government insisted "conclusions and recommendations contained in her report reflect bias and are tantamount to unwanted interference in the internal affairs of a sovereign state", Xinhua reported.
The permanent mission of Sri Lanka to the UN in Geneva said in a statement that "a trajectory that has emerged with regard to the recommendation of the high commissioner for the establishment of an international inquiry mechanism reflects the preconceived, politicised and prejudicial agenda which she has relentlessly pursued with regard to Sri Lanka".
Recalling that the high commissioner has called for an "independent, international inquiry" just weeks after the end of the war May 26, 2009, at the 11th Special Session of the UN Human Rights Council (UNHRC) on Sri Lanka and in three other subsequent sessions and in a report, the government said the reference in the current report that "the high commissioner remains convinced" demonstrates her persistent efforts against Sri Lanka.
"It is pertinent to question the factual basis for the high commissioner's initial formal call for an independent, international investigation in May 2009 and its continuation in order that the international community not be misled," the statement further said.
The government has defended its position by insisting that sustained and significant progress is being made on the reconciliation process in Sri Lanka.
The extensive report came as the Sri Lankan government faces a US-led resolution before the UNHRC next month for failing to implement adequate reconciliation measures and investigate allegations of war crimes.
The resolution, which is the third consecutive one faced by the government, is led by the US, which has insisted Sri Lanka's human rights record has failed to improve since the conflict between the government and the Liberation Tamil Tigers of Eelam (LTTE) ended.
The Sri Lankan government has vehemently denied war crimes allegations and has lobbied extensively to obtain support from UNHRC members to defeat the resolution that will go for a vote March 28. IANS