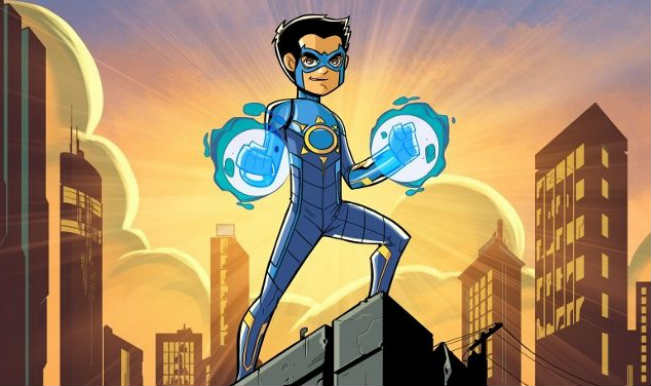 A legend when it comes to comics – Stan Lee has co-created some of the world's leading superhero characters like Spider-man and Iron Man, and super teams like X-men and the Avengers, which have captured the hearts of fans all over the world, for years now.
He has now launched a brand new Indian superhero!
That's right, Lee came together with POW! Entertainment and Graphic India have announced the launch of 'Chakra the Invincible' on a streaming video platform, Rovio's ToonsTV.
Lee was seemingly excited about his new venture, and said, "Against the spectacular backdrop of the great Indian metropolis of Mumbai, we tell the incredible saga of Chakra, one of my latest and most exciting superhero creations, whose adventures will captivate audiences around the world."
The comic series tells the story of a young Indian boy, Raju Rai, who lives in the city of Mumbai in India. His mentor is a scientist, Dr. Singh. Along with the boy, he is driven to uncover human potential using science. Together, they develop a technology suit that activates the mystical chakras of the wearer's body. However, Raju accidentally activates it and discovers that he has superpowers. He then promises to use these abilities to protect his city and its people. Using these powers, Chakra the Invincible has to save the city and the world from super-villains. These include Steelfist, Kildune, The Destroyer, Agni, The Living Flame, the most evil villain of them all – The Merciless, Boss Yama.
This new series of animated shorts is made available on a global scale in English, but will also be created in Hindi for specifically for the Indian market, with its comic enthusiasts. It will mainly be available on ToonsTV, but will also be accessible through the Angry Birds game apps and on selected connected devices. In addition to the partnership with Rovio, the superhero was recently launched on Cartoon Network India as an animated movie.
Graphic India is also soon to release comic books, games, toys and merchandise which will be based on the superhero, for commercial purposes.
Rovio's ToonsTV has recently passed 2 billion views, and the people at Rovio were thrilled to be able to work with Stan Lee to gift fans of superheroes around the world a new one, created by the legend himself. In the past, the live streaming platform had succeeded greatly in creating the universe of Angry Birds, which interested POW! Entertainment enough to partner with them to create Chakra.  Through the superhero as well as the platform, the entertainment house hoped to connect with its fans all over the world.
Both partners, while speaking to the media, said that they were focused on comic fans and would enable them to use their creativity to influence the outcome of one special episode of 'Chakra the Invincible'.